McCau
While the aircraft's tilting to make a 90 deg turn to the reclaimed runway, we saw lights beaming from the ground–alas, the sin city of the orient.
We arrived at the Macau International Airport past 9pm. Even though the casinos are kilometers away, I can feel the Las Vegas ambiance by merely looking at the uniformed chauffeur in the airport.
We wasted no time, after throwing our luggage randomly on our beds, we ran-off the street to search for our perfect Macanese dinner. The streets are narrow and rustic (reminiscent of Venice meets Diagon alley) but are amazingly clean… so taking the cab is a moronic waste of money.
alley near sao lajaro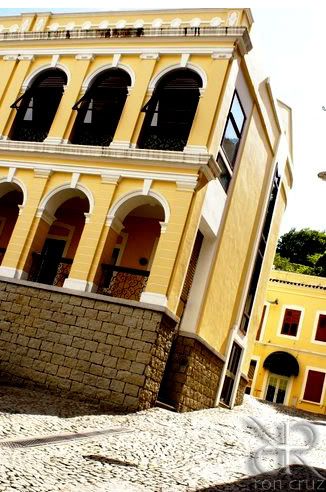 part of the old university near ruinas de sao paolo
We were smitten by the fact that we are walking on cobbled marble curbside. For couple of minutes, we thought we were in a suburb somewhere in the Iberian peninsula. The only thing that reminded us that we were in China is the constant presence of the Olympic rings and advertisements (what a commercial oppression)
By 12 midnight, signs of life in the island are densely concentrated in the Casinos, so we checked out the infamous district. You can smell money burning from a mile away, and I thought the slot machines outnumbered the total population of Macau.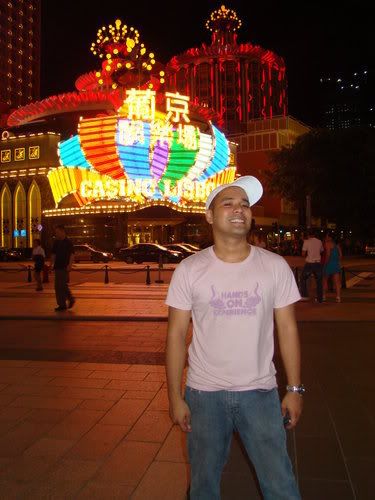 Somewhere along the way, we stumbled upon several Cantonese restaurants, as well as some lines of Thai Diners. The smell of the roasting flesh can easily lure me to splurge on an eating hysteria. BUT NO! I'm here to try an authentic Macanese food. Not Thai nor Cantonese not even cup noodles. But after more than 2 hours of hopeless walking and searching, stores started shutting close, and we were left with no other choice, but McDonalds.
A basic meal costs around PhP180-PhP230
I traveled this far to eat at McDonalds?
My first sumptuous dinner from a legendary culinary place turned out to be a Happy meal, super sized!
While yakking and whining I entered the fast food chain with a subconscious anticipation that there were also slot machines inside!