Typhoon Nuri
Just like the Philippines, the month of August is typhoon season for Hong Kong because we share the same storm path. So weeks before the trip we actually thought of praying novenas and offer eggs to Sta. Clara to bid for a good weather. It wouldn't be picture perfect without the clear blue sky, right?
On our third day, news started to spread like wildfire.
"A SUPER TYPHOON WILL HIT THE COAST IN 12 HOURS!"
Heck, nothing will stop us from going thru our itinerary. No storm will hold us back from pushing thru our backpacking adventures. We're Filipinos right? We are used to this whole storm hullabaloo. We technically grew up in Sampaloc, DUH! And so, we still went out to ride the cable car even if there's a storm signal waiting to be hoisted anytime soon (This is not advisable, don't try this kids!).
The international name of the typhoon was Nuri (Philippine name was Karen, sounds so appropriate!). We noticed that Hong Kong's general public took that news seriously. All disaster contingency forces started prepping-up, they started canceling flights, suspending classes and everyone is panic buying in the grocery stores. Aren't they over reacting? Why are they listening to these always inaccurate weather forecasts?
Close before midnight, I heard news update interrupting regular TV programming that the weather bureau hoisted Typhoon signal number 9… yes folks, NINE, nueve, jiu, gau (last time they had storm this strong was in 1990's) … Crapiness!
But I told Monette that I don't want to waste our day pickling our butts inside the house. We HAVE to go out!!! So we took the first train to the city central, we're the only one inside MTR, we kind of anticipate less people in the malls and streets, but when we stepped out of the central station, everything was closed not a single person walking the curbside, we're hoping to hear cricket chirps but there none, nothing but the whistling blow of wind. We searched the city for a coffee shop and the only open establishments are McDonalds and 7 Eleven. Bummer!
The city center is like a ghost town like a scene in Armageddon or some futuristic film about end of the world or some B-movie about global annihilation. I can't imagine Hong Kong central without a single human being on the streets. Try to picture-out a deserted NY time square, like that scene in Vanilla Sky when Tom's running around the city.
When we get bored, our minds mutate into some sort of a jackass irrational creature.

Sorry Hong Kong law enforcement, this is not our usual selves. Peace out!
So we spent the rest of the day in our home stay, watching Chinese TV shows (which we tried dubbing for fun since we can't understand it), eating moon cakes and playing Tong-its. Yes, that day I (finally) braved learning card games.
Top 10 things you can do when a storm hit during your trip and there's nowhere to go:

10. Attempt cooking local dishes, fuse it with adobo.

9. Spend time with other backpackers and share stories and tips.

8. Spend some quality time with the owner of the guest house (or receptionist) perhaps you can haggle for a discount.

7. Start uploading photos and blogs.

6. Facebook, and answer quizes, all quizes!

5. Go to the Philippine Consulate office, tell them you need shelter until storm subsides, enjoy the free meals.

4. Buy local chips and have a slumber party in your room.

3. Watch Local TV show, look if there's wowowee on cable and see if its dubbed.

2. Sit down with the one who booked the trip and blame him/her non-stop until his/her nose bleed.

1. But seriously, call home. Let your folks know that you are safe and sound.
After the storm, I walked around the suburb and did my thing—snapping pictures.
Precipitation/Temperature Chart (Hong Kong Observatory)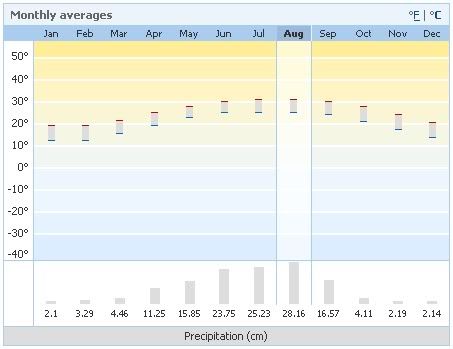 CHECK THE CURRENT HONG KONG WEATHER HERE!