Ondoy
I left the office and it was drizzling. At around 10 AM I decided to drive to Monette's place, and for some unknown reason, I grabbed Ferrari (My dog) and headed off to the parking lot. Water's currently at ankle level, few minutes later, I realized I left my money in my apartment and so I made a full turn to realize that the area was no longer passable.
After 2 hours of trying to figure my way out of the Sampaloc maze, I got caught-up in a vehicle jam in Sto. Domingo. Apparently, parts of Quezon Ave. were already submerged in flood water. In the past 4 hours, we received a months' worth of rainfall, as per PAGASA. Last time this happened was in June of 1964.
1 PM came and it was dark as 6:30 PM. I've been driving around the metro like a rat trapped in a labyrinth. Running out of gas, I decided to park in front of St. Paul  Parish Church in Timog. Mother Ignacia's water level reached 6 ft. ATM's are all offline. Can't do anything but wait.
I found refuge inside the church.
I've seen and been hearing stories of heroic deeds that took place in the last few hours: street kids pushing cars to jump start car's engine, fast food staff lending personal phones to those who ran out of cell phone batteries, buses taking passengers for a free ride, and right now I'm riding a free internet connection from someone I don't know. It was locked when I first checked it then he left his router open. Simple as it may be but hearing such random acts of kindness definitely warms the heart in this cold and dark moments.
Here are some photos circulating online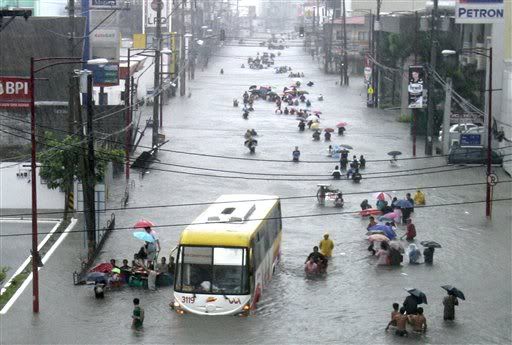 Sampaloc Manila

The Fort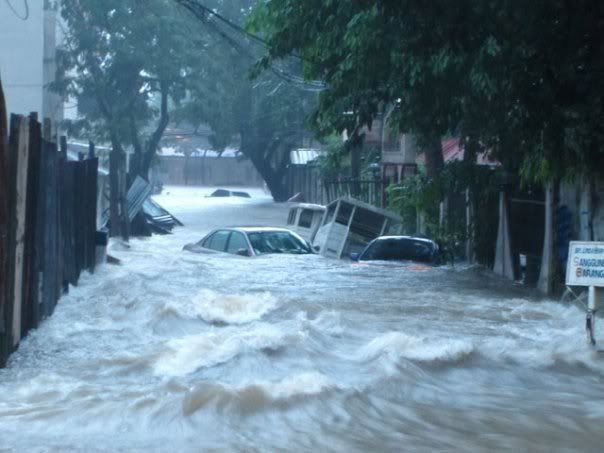 Katipunan QC

Pasig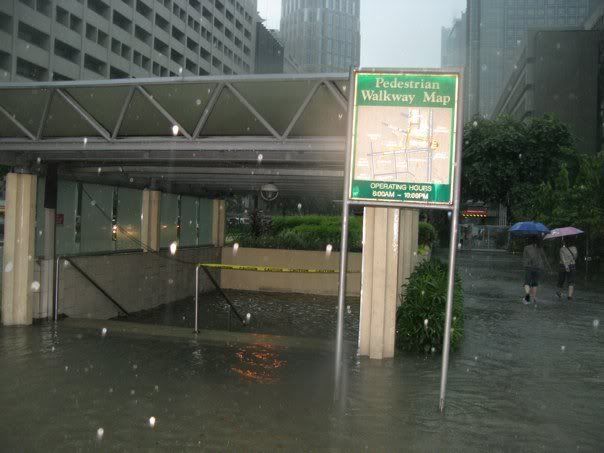 Ayala Makati
Rescue Operations
National Disaster Coordinating Council (NDCC) (+632-9125668, +632-9111406, +632-9115061, +632-9122665) Help hotlines: (+65 734-2118, 734-2120)
Red Cross (143, +632-5270000)
MMDA (136)
Coast Guard (+632-5276136)
AIR FORCE (+63908-1126976, +632-8535023)
Senator Dick Gordon (+639178997898, +63938-444BOYS, +632-9342118, +632-4338528)
Senator Manny Villar (+639174226800. +639172414864, +639276751981)
Bureau of Fire Protection Region III (Central Luzon) Hotline: (+63245-9634376)
Go to GMA Facebook page & post complete addresses and names of people in need of immediate help.
Rubber Boat Requests, 4×4 Trucks

NCRPO (+632-8383203, +632-8383354)
Private citizens who would like to lend their motor boats for rescue
please call emergency nos: +632-9125668, +632-9111406, +632-9122665, +632-9115061)
You can also text (+632917-4226800 or +632927-6751981) for rescue dump trucks.
For those who are able to lend 4×4 trucks for rescue: Please send truck to Greenhills Shoppng Center Unimart Grocery to await deployment, Tel No. (+632920-9072902).
Power Supply
Meralco (+63917-5592824) If you want service cut off to your area to prevent fires and electrocution.
Media Outfits
ABS-CBN Typhoon Ondoy Hotline: (+632-4163641)
Jam 88.3: (+632- 6318803) or SMS at JAM (space) 883 (space) ur msg to 2968
People Tracker (using your phones, get your friends and family to turn on their finderservice for you)
FINDERSERVICE. For Smart, text "wis <your name> <your mobile>" to 386.
FINDERSERVICE. For Globe, text "find <your name> <your mobile> to 7000.
*MRT and LRT are open 24 hours today.