FlipPicks: Top 15 Philippine Travel Blogs of 2013
The categories of travel blogs are not properly delineated as one may differ vaguely from another. But in a general taxonomy of its classification, you can pretty much identify one as a guide, an influencer, a storyteller or a classified ad.
So when this certain outoftownblog.org came up with an idea of a poll, we opted-out just because it is nearly impossible to narrow down to 15 the good quality travel blogs in the Philippines. (Melo, we are not going to include you in the list. You can't have your cake and eat it too!)
So our picks for this list are mainly based on (1) recall, though a lot came up when I drew URLs out of my memory pool, some of them I remembered for the wrong reasons. (2) Successful branding, these blogs successfully made their characters imprinted on the blogosphere (Shit who uses that term? So last decade). (3) Sincerity, as some travel blogs nowadays bought a domain ultimately for the sake of getting freebies. So it is safe to say that these picks are some of those who remained true to the very essence of blogging–NARCISSISM. char!
To be honest, we had to narrow this down and the biassed tie breaker was based on the length of time that we've been following their posts.
To other blogs that we follow: believe us, this is not easy… So please don't be disheartened [Let's give this to them, they are already old]
[in no particular order]
If there's a queen city of the south, a queen of all fruits and a queen of primetime TV—Byahilo.com is the unprecedented queen of travel blogs. The colors, the texture, the writing style are undeniably Enrico Dee's. Even if we close my eyes we can point him out of the crowd. That's how strong his brand exudes across IP addresses.
Comprehensiveness is an understatement if we are talking about Mervz' blog, Tripadvisor should be threatened by now. It is a matter-of-fact, no dillydally, no bullsh*t travel bible about exploring around the Philippines. He will get straight to the point and flowery segues are merely spat marks on the soil.
Christian is not human, his photographs are intelligently composed, thoughtfully captured and if photos can cause orgasm–we are already pregnant and he's the dad. The impact of his works is tantamount to bring out the green-eyed monsters in us that when we visit his site, we end up shutting down our computers and wanting quit travel photography for good.
Who will travel with a less than 2 year-old baby girl around the world? I mean, who does that? Only cray cray moms will… Well guess what—she did it. Gay is a hippie mom of the hyperactive, human gym equipment, globe crawler Luna. She managed to live the nomadic lifestyle outside the typical Filipino norm of telenovela-watching and all-around-servicing stay home moms. She defies the misconception that being a mom means you will be stuck in the compounds of tupperware parties and PTA meetings.
The words are placed on your screen with a well thought geometric juxtaposition that will hypnotize you. The Filipina nurse from the land down under is a master wordsmith who can easily put every travel writer wannabes to shame.
I remember Dong Ho giving a talk in one of the travel events in Manila, that time I was just a silent fan and I always wanted to meet him in person (Of course that was precedent to the fact that I really admire his trip documentation). We got a chance to work together in the reality web series PHL360, and I discovered that behind the rough, robust and a hero blogger, he's a passionate, funny and thoughtful travel buddy—The perfect bromad!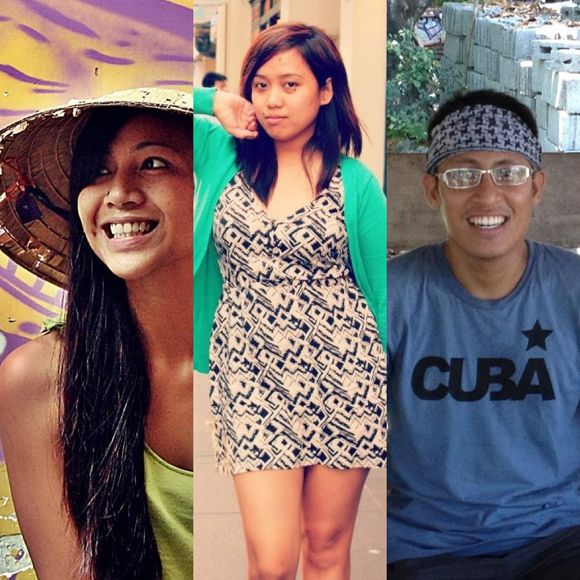 I admire this blog for having a strong principle and for staying true to her readers. And if that is not enough, take this: "Best travel blog in the Asia-Pacific region 2012" I guess that sufficient string of words will shut other travel bloggers who are publicly claiming they are the best.
Robbie is a visual artist who interprets his experiences through digital art and candid narratives. The blog layout is such a treat making his total blog packaging so delicious, so yummy that it is fattening. He is relatively young in traveling years but with the rate of how he's running right now, he will go a long way.
The back story of this blog is so alluring, a living proof that lawyers can be extremely hot! The alter ego will draw you to his Huckleberry Finn kind of adventures and misadventures. The legal practice is his Bruce Wayne side and this blog is his Batman alterego. In short, you would want put cough syrup in Oman's beer bottle, drag him to the nearest chapel and marry him.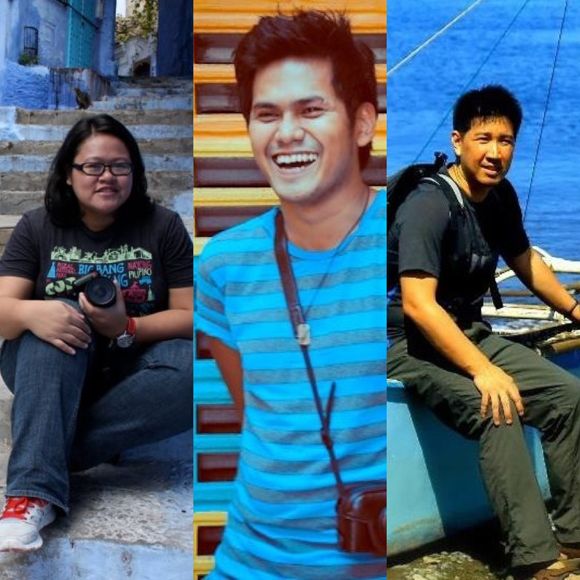 Estan is one of the cornerstones of travel blogging in the Philippines, undoubtedly the man who set the benchmark in travel photography and blog writing. But the site will not force feed you with highfaluting clauses as it will let the visuals speak for itself. Articles are short and sweet, just perfect for readers with attention and commitment issues (READ: MAJORITY).
She personifies charm and people are addictive to her stories simply because she is relatable and real. What you see is what you get—the telling of her trips will easily entice you to head-off and follow her escapades… sans Bali in the picture.
In terms of passion and sincerity, no one in this form of media will ever pale him out into the background. His travel writing is one of the few romanticized blogs in this generation, this is one of the few sites with multidimensional impact that the sincerity is so palpable. As some people preach about passion, this guy right here is living it! I am a fan… well except of his selfies. LOL
The blog concept is unique and a breath of fresh air amidst the typical blabbering that you will see in the internet these days. His writing style is topnotch but will definitely not bore you to inexorable state of catatonia. It is one of those rare online gems that are prone to copy-pasting from the likes of Senator Sotto. (Damn, what are we feeding these kids lately?)
EAZY knows the travel industry like the back of his own passport. He is the guy we would entrust our lives with and when he say "turn this way," we would (The guy looks like he can afford a fuckin' GPS, Hello!). Kick-ass photos, well-written stories and credibility that speaks volumes.
Originally inspired by Jack Kerouak's narratives, Marky eventually transcended to his own style of storytelling. The whimsical vividness and pungency of wit made his blog a must visit for readers with a minimum IQ of 110, otherwise, please proceed to w_________.com. He's Baz Lhurman, Woody Allen, Jack Kerouak and Victoria Beckham rolled into one blog.