How to enjoy a Paris vacation for P55,600?
Paris is the pinnacle of haut monde travel, the quintessential european escapade and the one single city with an unmistakable skyline.
Now, imagine walking on the same cobbled pavement that inspired Woody Allen and Lauren Weisberger while sashaying and whipping your p*ta red scarf at 25°C.
Now, picture all these happening  in the tune of 55 thousand pesos or roughly around $1,200.
Amazing, right?
Now, wake up and smell le café.
.
Last week ABS CBN published an article in their website with a promising catch phrase "How to enjoy a Paris vacation for P55,600" and internet couldn't help but get excited. Who wouldn't? If more than 50% of Filipinos can easily give that amount to BIR as income tax for less than half a year, I bet we deserve a good reward like that mutha-packing trip to Paris.
Then I found out that P55,600, suggestively, should cover for the trip budget, city transportation, food, accommodation, pasalubong and return flights—Now wait a minute, what fuckery is this?
It was a stimulating read, I admit. But let us have a check and balance here.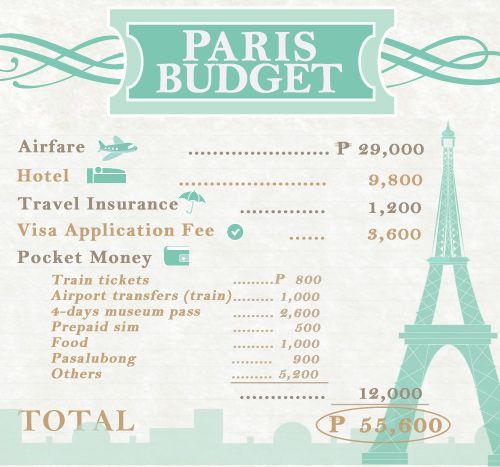 Photo from ABS-CBN website
.
FLIGHT
I am not sure which airline offers as low as P29,000 for MNL to CDG, because as far as I know, the cheapest flight to Paris used to be from AirAsia X, and they stopped flying early last year. When I scoured the internet last summer to book my flight to Charles de Gaulle airport, the cheapest that I found were from AirFrance/KLM (P50,000 or $1,200), Qatar Airlines (P45,000 or $1,100) and Malaysian Airline (P36,000 or $900). All four flights were from Singapore or Kuala Lumpur, not from Manila.
I checked just now and the cheapest that I have found was from Qatar airline for early December (Off peak season) travel period, from Kuala Lumpur it costs P40,000 or $900. Now add P10,000 on top of that (Average airfare for a budget airline from Manila to KL).
Seat sale maybe? Correct me if I'm wrong, but I don't think long haul flights can actually go that low for their seat sale promos, which by the way, are as rare as straight guys in a gym club.
.
MUSEUM PASS
A 4-day pass price is not P2,600 or €39 as the writer claims she paid, I remember paying €56 or P3,400 when I bought it from their official airport kiosk. Their official website confirmed it, CHECK IT HERE.
.
HOTEL
According to the writer, she booked Hotel de l'Europe for four nights and paid P9,800 or $220. I checked booking.com but the cheapest dates for Hotel de l'Europe will be in May and it's $20,000 or $460 for four nights. CHECK IT HERE.
Just for fun, I searched for the cheapest hotel in Paris available for the month of May and the only hotel I managed to find is Hipotel Paris Belleville and the reviews said it all. "Dirty, miserable and repulsive" "Don't even dare staying here" according to previous guests. I bet this is one of those hotels with carpet-dwelling mutant organisms, dark hallways and stray tables occasionally high-fiving your balls.
.
FOOD
P1,000 or €16 for four days? I was like, WHUUUT?!
A bottle of water from the vendo machine costs P100 or €1.50 (the cheapest is Evian if it's any consolation), you can get a plain cheese baguette off the streets for €3. P1,000 food budget means you have to eat a cheese baguette only once daily for 4 days, which is so sad.
When you are in the heart of the city where a world class cuisine originated and bottles of fine wines popping every 20 seconds, surviving with €16 for four days will need saintly self control, stomach lining of a Jedi, zero self-pity potential and a lot of cup noodles in your luggage.
.
Let's do the math…

Flight (off-peak) : P50,000 or $1,110

Hotel : P20,000 or $440

Food (Realistic for 4 days) : P6,000 or $133

Travel insurance / Visa Fee : P4,800 or $106

Metro Ticket (Carnet) + Airport transfer : P1,800 or $40

Museum pass (4 days) : $3,400 or $75

Pasalubong, sim card and others (as itemized in the article) : P6,600 or $146

Philippine travel tax + Airport tax : P2,280

Total : P94,880 or $2,112
.
I applaud the girl who wrote the article for making it to what most of us would consider the trip of a lifetime with P55,600 in her pocket. You go girl! #BigyanNgJacket
Again I am in no position to say how one should travel nor nullify the truth in a story told. Because people will travel the way they want to travel, be it luxuriously grand, within realistic budget, occasional splurging, on a shoestring to a she-should've-just-stayed-in-the-airport penny-pinching. You can even blow job your way across Europe, for all we care.
One may enjoy Paris through its rich culture or food, some may do designer label shopping and wrestle with a crowd of Asians in Champs-Élysées, but others may want to experience the city the Princess Sara cum Les Miserables way. I respect that. To each his own.
But if you will ask about my budget this particular trip? I'd say, since I will be putting so much effort and time to fly halfway across the globe, I would definitely save some more money and make sure to at least enjoy the city for what it is and what it offers.
Le tour de poor? No thanks.