an authentic japanese food adventure
By: Ron Cruz
.
Itadakimasu!
The word means "I humbly receive!" A verbiage to be said before the first bite, like bon appetite for French or loosely translated Kain na for Filipinos. One semi-drunk Japanese guy told me that it's a way to salute everyone who paved way for the food to be on your plate, from farmers to chefs, packers to servers.
Another version from the same semi-drunk Japanese guy (this time he was semi-sober), is that Itadakimasu is supposedly a way of paying respect to the soul of the sacrificed creature, that his life wasn't lost it vain.
In an epic dinner in Magome, I was served with Basashi, a specialty of Gifu Prefecture. It is like a tender sashimi: Tasty, served raw but it is a slice of a young horse… It is delicious but I must admit, the idea freaked me out a bit, no A LOT! I trembly picked-up the bloody strips of baby horse meat with my wooden chopstick and delicately lifted it towards my mouth—ITADAKIMAAAASU! I closed my eyes and flashing before me were the images of Black Beauty, Seabiscuit and my little ponies.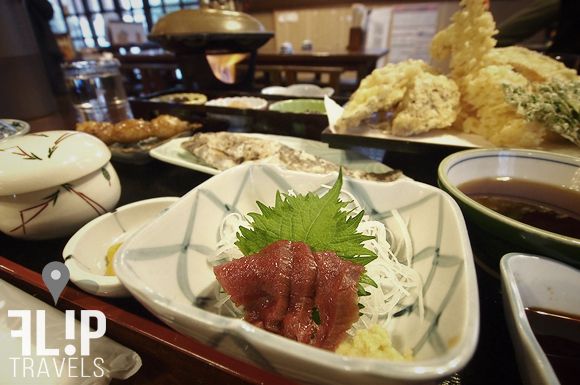 First serving of Basashi in Magomechaya
The Sound of Noodles
When you eat soba or ramen in Japan, it's perfectly OK, even expected to slurp them, the louder the better. In fact, one of the best ways to find the best ramen restaurants is to listen and follow the loud slurping sound that comes out of the nooks.
I saw several men do it with dignified ease and manly execution, I bet I can do it too. So like a valiant hunter staring at my kill, I pulled my bowl of Soba closer to my chest, summoned my inner Don Vito Corleone and with gallant spirit I slurped in reckless abandon…
FAIL! I sounded like a slurping preschool girl with menial to zero bravado and a lot of hot soup spraying in my nostrils.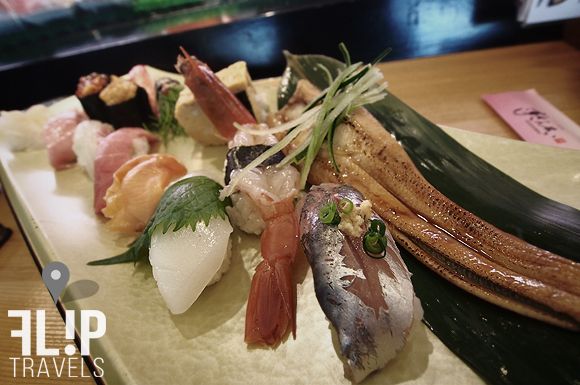 .
Eat With Your Eyes
For me at least, a trip to Japan without experiencing a dinner in a good sushi restaurant is pointless, I might as well stay in the airport until my flight out.
The Japanese people eat with their eyes, the preparation is already half of the gastronomic experience. From folding of table napkins, slicing of fish to whisking of sauces, everything is an art in itself. The balance of flavour, the relationship with nature, the beauty of plating and the spaces in between are the elements of great significance.
The world renowned and award-winning sushi restaurant by the three Michelin star chef, Jiro Ono, is way too expensive (Starts at USD300 per set) and best of luck on the reservation. Due to lack of time to visit Tsukiji Fish Market, Nina brought us to Heiroku's branch in Shibuya-ku. We sat on the bar counter as we eagerly watch our platters materialized out of thin air. The chefs were as entertaining as they are skilful, shouting random stuff in unison like a Japanese game show hosts. 
My spread set a damage of USD50 off my budget, but it is by far the best, the freshest and most authentic I've ever had.
One concern though, the fact that there are fishes in the aquarium placed behind the counter ticked me off a bit. The fishes were looking at me with a telepathic stare saying "that's my best friend and cousin, Asshole" while I devour the sumptuous lunch.
Kitchen Immersion
With my long standing love affair with the Japanese cuisine, I knew right off the bat that I want to experience it first hand in a traditional house in Japan. So, I enrolled in a cooking class in a Kyoto.
I found out that I am the only guy and the only Asian in the batch. With a lesbian couple from Switzerland, some "blonde" girls from Dublin and an American lady whom I can attest to have Asperger's Syndrome, we were introduced to the elegant and sometimes peculiar discipline of Japanese food preparation.
Was it about cooking rice or slicing tuna? NO!
I attended the classes to observe, to understand the process, to feel how it is like to be in a real Japanese home kitchen and to watch full grown women embarrass themselves because they cannot even properly grind sesame seeds in a pestle.
On the last day of the workshop, I went back to my hostel gleaming with pride for singlehandedly defeating 7 women in a sushi plating battle. That night, like Jiro the sushi chef, I knew I will be dreaming of roasted tamago, fatty salmon sashimi and bowls of vinegar rice topped with fresh bonito shavings.
I woke up the next morning. I dreamt of instant cup noodles.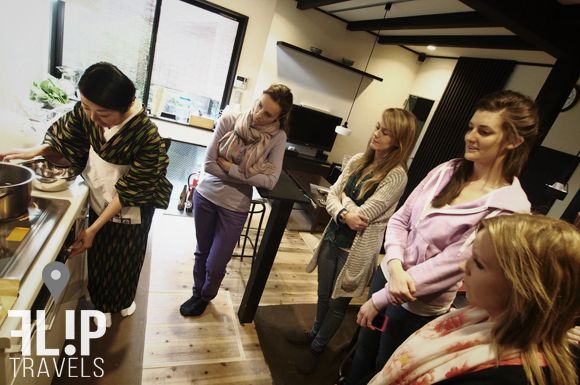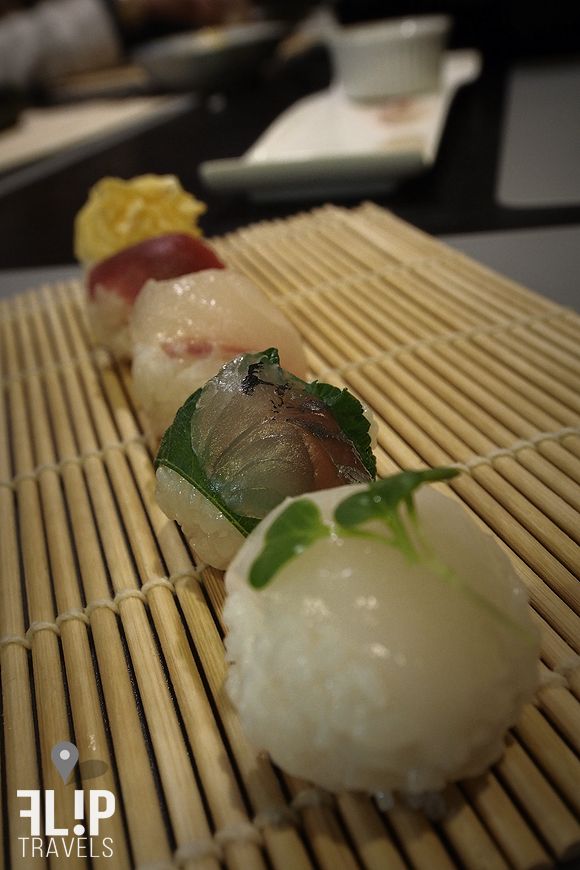 ———————————————————————————–
For Nina's dad, who started his real big adventure. Bon Voyage Sir!