bears and introspection: magome to tsumago
.
On high mountains the wind is created easily.
In deep oceans it is difficult to measure the volume of water.
People cannot know the limits of space.
~Kukai (774–835)
 .
A pilgrimage is intended to be difficult, that is how one will draw the perseverance to complete the trail in search of the spirit of Kobo Daishi. I probably will not wax-poetic in verbose tantric verses but more likely will whine in frantic curses.
With my poor threshold and endurance comparable to that of a 60-year old sedentary human being, throwing me on a pilgrimage across the central mountains of Japan is nothing short of forced Harakiri. Don't be surprised that in less than an hour I will declare that I have surely found and got acquainted with the spirit of Kobo Daishi. At BFF level. So we'll call it a wrap.
The Nakasendo is the old trail connecting Tokyo and Kyoto during the Edo period. Like the oriental version of Camino Santiago de Compostela in Spain, the routes are popular among literature and spiritual pilgrims as well as tourists and instant-noodles travelers alike.
So with Shine and Nina, who are not denying their dislike with strenuous travel activities (and when we say strenuous that means anything more physically demanding than climbing two plights of stairs), embarking on this "life adventure" is a great amount of deal—
On that spring morning… We head off to walk from Magome to Tsumago through the mountains of Kiso Valley <cue epic Hans Zimmer overture>.
#OKFINE. It was not as difficult as the other treks we did in the past, for most locals it seem something that they might have thought of doing out of whim "I already watched all the cat videos in youtube, let's cross the mountain." I even saw old Japanese couples overtaking like as if they were just gliding through the breeze down the park. I, on the other hand, was thankful that I have an insurance policy.
 .
We left Magomechaya early in the morning, our gracious Filipino hosts bade farewell. But before we even stepped out of the minshuku, we were stopped and they handed me something like a glistening talisman, a charm pendant, "A metal whistle, for your safety."
It may sound interestingly obscene, but I didn't quite get the idea of blowing myself to safety—Should I whistle to alert the Super Sentai when ultra giant reptiles and mutant sushi monsters appear out of nowhere?
Less than a kilometre from the post town, I started seeing warnings signs and bells: RING HARD IN CASE OF BEAR ATTACKS! The mountains reminded us of the impeding peril every 5 minutes, every turn and every slope. It was the height of spring, the the post-hibernation hunting season. So, we were given the whistle to fife and twirl a baton to freak the starving bears away, yeah? GREAT!
To make things worst, of all the clothes I could have pulled out of my bag, I decided to sport a screaming mustard colored sweatshirt. Bears were reportedly attracted to bright colors and there's the stupid me in the middle of the woods with potentially hungry Japanese black bears, skippity-hopping "Oh look mister bear, I'm the fucking Winnie the Pooh!"
 .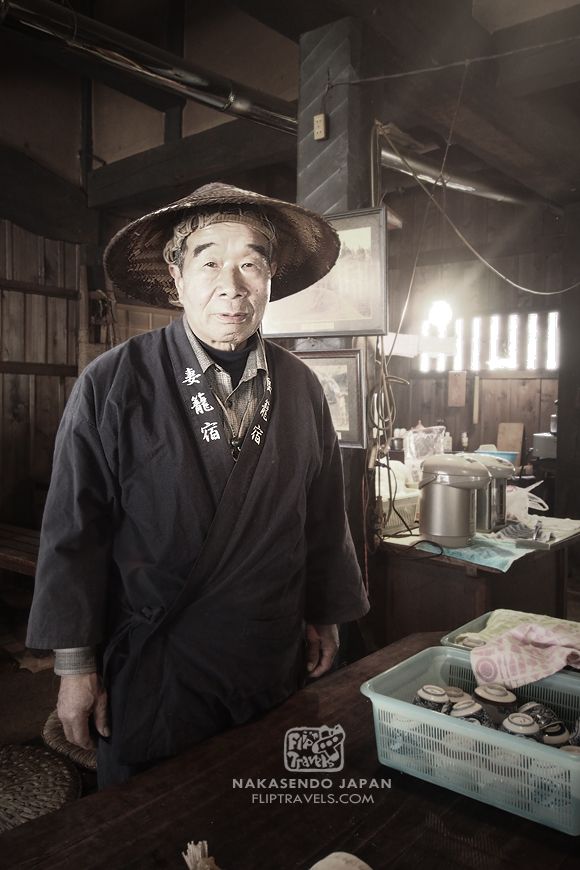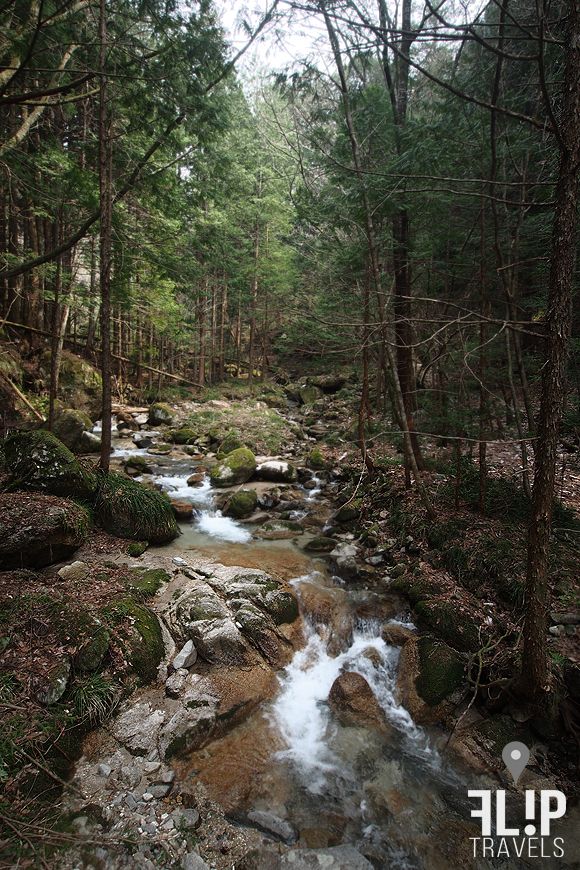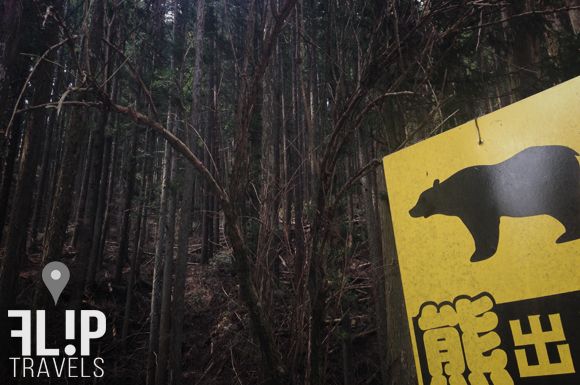 .
Kilometres of winding paths later, not a single bear was seen. Only the serendipitous sightings of quiet villages, sporadic houses all made entirely of wood and paper, blossoming daffodils and wild misty roses. The pillars of cypress and the cutting brooks became a mere afterimage in motion blur. Because I worried too much and paid less attention to the mesmerising landscape right in front of me.
The only attacks that we experienced were the smiles of the local farmers. When you greet them with "konichiwa" and a slight bow, you would feel their enthusiastic response like as if they have long been waiting for you to come along. So genuine it was arresting.
Nakasendo trail is Japan through its back door. Behind the neon insanity and orchestrated asphalts of the big cities, there lies the old Japan that will make you feel infinitely remote from the present.
If there is one thing that I can take-away from this journey, that is the lesson to stop worrying too much, don't calculate every step and just surrender to the present situation. Because one can only do so much if his head is already inside the gaping mouth of the bear, just seize the moment and breathe it all in. After all, people cannot know the measures of chances and limits of space.
.
To access Magome, take the JR Shinano limited express train from Shiojiri to Nakatsugawa Station (60 minutes). The entire one way trip from Tokyo to Nakatsugawa via Shiojiri takes about four hours and costs around 9,500 yen. From Nakatsugawa, Magome can be reached in a 30 minute bus ride from the terminal right outside of Nakatsugawa.