first-timers' guide to myanmar
VISA
When we visited Myanmar exactly a year ago, Filipinos were required to apply for tourist visa prior to travel. Recently, both countries agreed to scrap the requirement and give Filipinos 14 days of stay without the stress-inducing sticker in the passport. So that's P1,100 and armpit-frothing process less of your worries.
MONEY
The local currency is the Burmese Kyat (Pronounced as Chat). Here's the tricky part, Kyats are nowhere to be found in the neighboring countries' money changers, ask for Kyat and chances are, they will give you that WTF? look and a condescending stare. Please note that as of March 2013, there are/were only 2 ATMs within Yangon that accepts foreign cards, Most if not all establishments don't accept credit cards and good luck with your travelers cheques, you can use them in case of zombie attacks to kindle fire.
So should you bring a your currency and have it changed upon arrival? DON'T! They do not accept currencies other than US Dollars. Thank you Obama.
What's the deal with US$?

– In Myanmar, money changers and banks would only accept crisp, stamp-free and no fold USD100 bills. So imagine us on the verge of clamoring and creating scenes with money changers in Manila if they don't want to give us impeccable bills with no speck of dust on Benjamin Franklin's face.

– Don't change all your money to Kyat as hotels and some establishments would still require USD for payment. For souvenirs, small local restaurants and transportations would still prefer Kyats but USD is also accepted.

– Oh, and it must be printed after year 2000, preferabbly after 2003

– AND must not contain CB, BC or AB serial numbers

#iKnowRight
YANGON
No it's not the capital city of Myanmar… So what's the official Burmese capital? Don't google. It's alright, try asking the person next to you, it will make you feel better.
The country just opened up to the rest of the world after a dark age of juntas and political turmoil. So when they pushed the doors open, investors ran agog and the tourism campaigns started flying on all directions. It is changing fast, Coca Cola just came in late last year, I am predicting that hotels and resorts will be popping like wild shrooms, tourist traps left and right soon and prices of services will be skyrocketing.
With scarcity of internet connection, you will have 100% of your time touring around the city, so two full days should be enough. I would suggest to spend more days in Bagan.
TRANSPORTATION (Yangon to Bagan)
We've heard of horror stories about the midnight train to Bagan. The rusty, wheel catapulting, butt tendering and death defying old piece of machine from the country's colonial inheritance chest. To ratify that, just a few nights before we arrived, the sleeper train got derailed, leaving us with the slow hard seat cars as our only option.
Oh by the way, about that train…

– Train fares from Yangon to Bagan cost $50 (sleeper) $40 (upper class seat) and $30 (first class).

– Take train 61 from the main terminal in Yangon that leaves at 4PM

– Travel time is said to be 17 hours, but dude, I wouldn't count on it if I were you.

– Expect not to sleep as the train cars jump on the tracks catapulting passengers every 30 minutes.
We traveled with 6 other travel blogger friends, we chose convenience and spared ourselves from doing return trip in flying caskets. We bet on our biggest sacrifice on this trip—Hiring a private van to Bagan in the tune of US$400. We gagged and froth in the mouth but it was the safest and more comfortable way of crossing the vast arid Burmese plain. Plus we get to use the van to go around the city for the initial sight seeing resting.
Night buses are also available and will take the newly opened highway connecting Yangon and Bagan, that cuts down the travel time to 10 hours or faster depending on the driver's Jedi skills.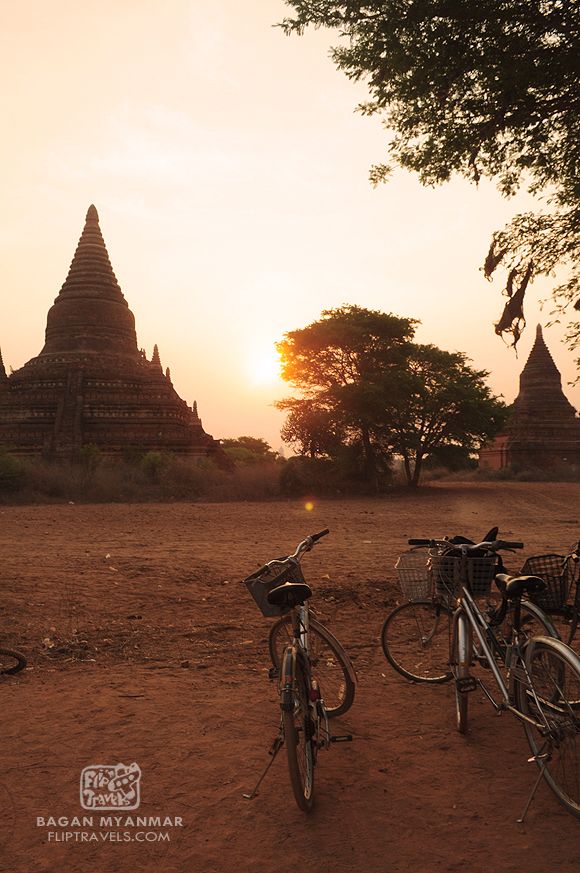 BAGAN
Biking in Bagan is fun and everyone with an energy of a high school student should try it out even just for a day, or maybe an hour ($5/day). I know you will say that the idea of biking is so cinematic as you glide across the temple studded vast plain, while your hair catch the breeze, the sun kiss your cheeks and Gabrielle singing 'Sunlight' in your head. Tell me all this after you pass through the sand pits where your leg power will be tested and end-up walking home with throbbing calves, aching butt cheeks, frothing armpits and harassed perineum.
Hot air ballon is seasonal and you have to book months in advance.
The sunset and sunrise are probably the biggest attraction among tourists and photo enthusiasts. At around 5-ish there will be an exodus of people heading towards the popular temples with the best vantage points for sunset photography.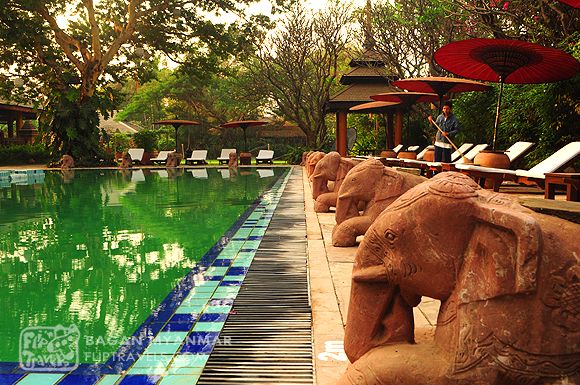 ACCOMMODATION
Budget. In Yangon, we stayed in what Lonely Planet recommended, Motherland Inn 2. The absence of proper ventilation makes it scorch like a convection oven by day and siomai steamer at night. Fan rooms at $15/person/night
Average. In New Bagan, our driver picked the hotel for us. Yes because we do not have a choice and booked it on arrival. Surprisingly the Bagan Central Hotel exceeded our expectations. Aircon room for two at $40.
Splurge. In Old Bagan, that was when we pampered ourselves and stayed in what we believe to be the best accommodation in this part of the world. Hotel @ Tharabar gate is hidden inside an oasis of lush greens in the middle of the vast arid temple complex. The 170/night is good for 3 people and by far one of the best decisions we've made during this trip.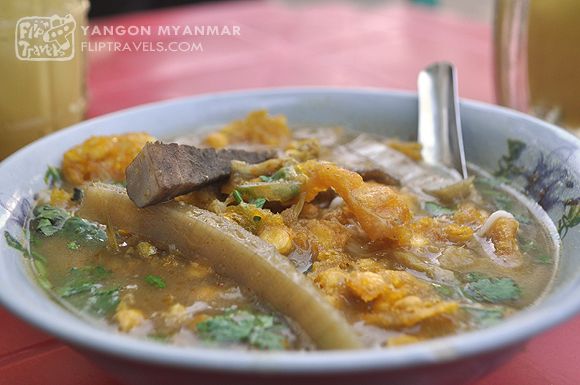 FOOD
A typical Burmese table means overflowing feast fatale! Before we even hit the tables, mounds of rice were already waiting and the waiters served all sorts of fresh green condiments of what looked like a bouquet of vegetable garden.  It was served with Ngapi, a fermented fish with chili, a hybrid of the Filipino Bagoong and Buro placed somewhere in the plethora of plates on the table. In no time, the table was completely covered with various dishes of fish, mutton, corn and whatnot. All with a common theme–DRENCHED IN OIL.
Surprisingly we all loved it. The dishes are actually comparable to a slow cooked Kapampangan adobo, only the Burmese preparation consist of 50% actual ingredients and the rest is oil, Hollywood can actually just import the left-over lard and smother it all over Channing Tatum.
These meals may cost between $2 to $10 depending on how gullible you are.
[READ MORE ON BURMESE CUISINE HERE]
MUST BUY
Longyi / Htamain  – Is the traditional lower garments used all across the country, it is also important to have these specially when entering temples
Thanaka – The bark of a tree used as facial aesthetic design, it also gives a cooling sensation and provides protection from sunburn.
Jade works – Myanmar could be the biggest producer and exporter of Jade. It is really cheap that I've seen loose jade beads along the dirt paths in different occasions.
BUDGET
This average projected budget is based on 7-day trip, which I believe is enough to see the highlights of the country. You may extend if you wish to see other popular spots like Mandalay and Inle.
| | | | |
| --- | --- | --- | --- |
| Return flight from KL, Malaysia | P8,900 | $200 | As of March 2014 |
| Food budget (7 days) | P4,800 | $110 | Based on Budget to Average choices |
| Bagan Conservation fee | P670 | $15 | Paid in USD |
| Bike rental in Bagan (3 days) | P670 | $15 | $5 per day |
| Accommodation in Bagan (3 nights) | P6200 | $140 | Per head on triple sharing |
| Accommodation in Yangon (2 nights) | P1,340 | $30 | 1 night spent in transit |
| Return transportation Yangon – Bagan | P4,400 | $100 | Private van (Sharing) or Sleeper train bunk |
| Shopping (Longyi, Pasalubong and postcards) | P2,300 | $60 | |
| TOTAL | P29,280 | $670 |   |