get a room: review of hotel 878 libis
Sometime in 2008, when college stress warrants regular weekend partying and the age when sobriety is a social taboo, I surrendered myself to the lures of alcohol inebriation and temptations of pounding bass sounds of the old strips of Malate.
One Sunday morning when the humming sound of air condition woke me up seeing the fibers of a hotel carpet with my face kissing it and my body helplessly lying flat on the floor. I pushed myself up and saw myself wearing only my boxers.
"Good morning, cowboy!"  Greeted a voice from the bed. An unknown lady on her late 40's wearing a singlet and a short so short I swear I can see her cervix.
Taken aback and still trying not to be rude, but the attenuated confusion made me utter "OH GOD! WHO THE HELL ARE YOU?!!" from that moment, I sworn not to drink too much specially if my apartment is on the other end of the city.
You see, partying is fun. But not being able to drive back home (or at least hooking up properly) will negate the whole point of the preceding night.
Manila is an average-sized city where the people knows how to party. But the traffic, occasional bad weather conditions, opportunist cabbies and ninja drivers will ultimately test your pedestrian and driving jedi skills after a long night of sweating, pumping and dubstepping. So it is a good idea to either go out with a non-drinking driving buddy or simply GET A ROOM!
On my birthday weeks ago, Gay Emami (Pinaytraveljunkie.com) and I decided to get rooms where we can roll around and seek refuge for my birthday's eve session.
HOTEL 878 is in the heart of the Greater Manila Area. Few minutes from Ortigas center, a stretch of avenue away from Makati and a twerk and a half from Eastwood City in Libis. A perfect venue for weekend staycations and a sure hit for small parties without leaving the comforts of the city.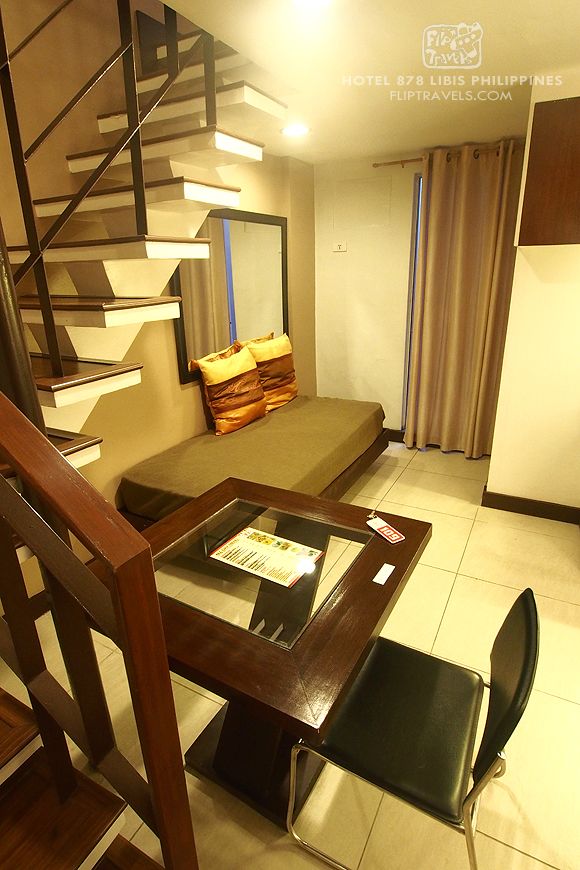 The modern Asian designed Loft room is for two people and the mezzanine with two single beds and a day bed below will definitely accommodate four. So we Invited our friends Dong Ho (escapeislands.com), Melo (outoftownblogs.com), Darwin (trackingtreasures.com) and Upper (Dispatchmagazineonline.com) to join us for the pre-party.
Each of the 40 two-level Loft rooms has (in ascending order of importance, at least for me):
* Telephone (local calls within Metro Manila only)
* Cable television (Filipino classic films are amusing, trust me)
* Dining table with two chairs (Perfect for Melo who is perpetually blogging, despite the party situation)
* In-room coffee and tea service
* Queen bed or two single beds (you may choose depending on who will you be sleeping with. LOL)
* Day bed in the sitting area
* Individually-controlled split-type air-conditioning
* Rain-shower bathroom (comfortable clean bathroom is a must for after-parties to clean the bodily grimes and immoralities of the preceding night)
* Its own small walk-out open air veranda (Where a "cultural" dancer can hide for a surprise performance, there's enough room for props like bamboo sticks for Singkil)
* Free WiFi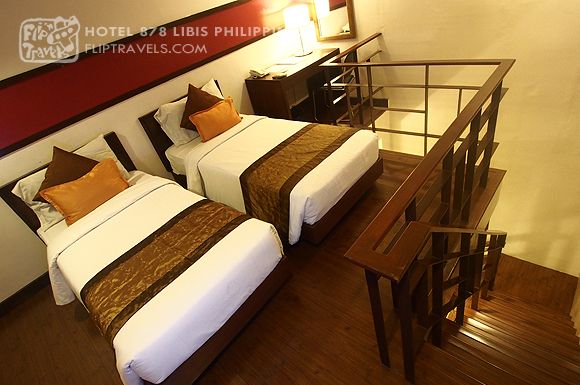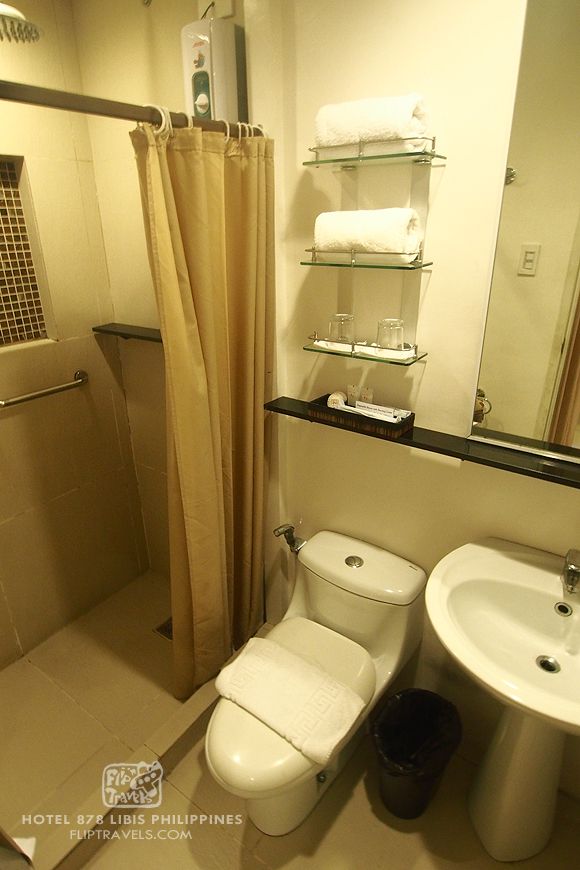 At 5 PM Gay and I were starving like construction workers, so we ordered chicken wings to munch while we danced the afternoon away in the tune of the post-apocalyptic ballad Wrecking Ball. Due to proximity to the commercial center, the delivery guy arrived even before we even attempted licking a sledge hammer (in our case, the Bidet). The Hotel is right along a main thoroughfare but the room was surprisingly quiet, not sure if the rooms are sound-proof but during our 24-hour stay, not a single fuck was heard, I mean car horns, seriously I mean horns that Manila is infamous for.
The following morning upon waking up, we walked straight to the Cafe for our breakfast. For someone who's from a country where food options are limited to Spicy Indian, Malay Halal, Nyonya Chinese and Poser salad/botanical cuisine, I was itching to dig-in to the sinful Filipino brekkies that they serve: There's Boneless Bangus, Tocino and all the classic silogs in the menu. But I went head-on towards the items that are not available in Singapore–Corned beef and pork bacon. They could have done a better job on the bacon but it was fairly compensated with the corned beef that tasted like steak from a kick-ass hatted restaurant.
The staff and crew are exceptional, from front desk to security and room service. Honey, they speak better english than some people I know who grew up with english as their first animal sound.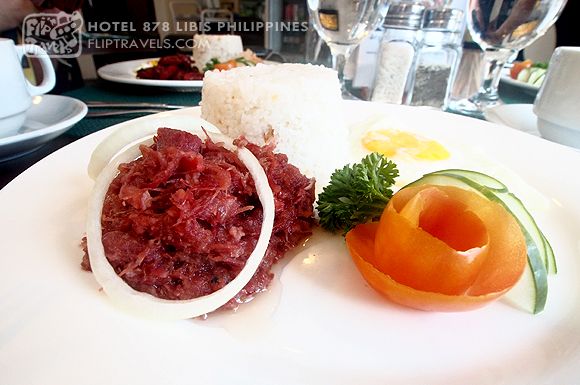 Going back to 2008, of course nothing happened between me and the woman I woke up with, she found me sleeping on the curb in front of the hotel. Her being a good samaritan (with the help of the security guard) pulled/carried me up to her room for my safety. I was not wearing anything because the security guard sent my beer soaked shirt to the hotel laundromat.
6 years, 2 college degrees and a proper job later, I learnt the importance of seizing a good party and enjoying the comforts of the morning after it. So the moral of this article: Don't drink beyond your threshold, and spare yourselves from the embarrassments of waking up in a stranger's hotel room wearing only boxers and a horrified face, so please GET A ROOM!
They are currently giving away an overnight stay for two, visit their fan page https://www.facebook.com/Hotel878 for more info. They usually publish promotions and discounted rates, check out their website www.hotel878libis.com .