nepal for first-timers
MOUNT EVEREST
Don't ask me about climbing the Everest Base Camp, I can't even climb our building's stairs to start with. But the most popular trail for non-pro enthusiasts should be the Annapurna Circuit. It is relatively easier and realistic trek especially if you have limited time to spend in Nepal.
So if climbing mountains isn't one of your super powers, then seeing Mount Everest from the plane will be the nearest experience that you can get. Make sure to book a window seat on the right side of the plane if you are flying from Asia Pacific. For most of us seeing it will be an experience of a lifetime. Imagine, you are looking at it face to face at eye level, the highest mountain in the planet… OK fine it is not, in terms of land incline it is Mauna Kea in Hawaii… GEEK!
THE CAPITAL
The streets of Kathmandu on rush hours are comparable to EDSA on a payday. You can rent a motorbike or a car, or you can also take the sporadic public buses, WHICH by the way, are something that I would not recommend. With crazy traffic rules, absence of functioning traffic lights and ninja-trained drivers, going around the city may require serious skills with inner jedi force. But if bear wrestling, street luging, heli-skiing and Baseco compound parkouring is up your alley? You can go ahead and give it a shot.
But I would advise that you stay in Bhaktapur, an hour away from the city. This self-sustaining medieval city is the better city to stay than Kathmandu. It is like stepping back in time because the buildings, streets and the way people live remains as it was hundreds of years ago. I thought at first that it was all staged and scripted like as if CBS is behind it all, but no. It is indeed an authentic old city of heritage that inspired Bruce Lee to make his final movie–Game of Death.
OUTSIDE THE CAPITAL
The most popular destination and a quick trip outside Kathmandu and Bhaktapur is Nagarkot. Just 1.5-2 hours bus ride from the city it has what most people wants to see in Nepal, the white capped Himalayan mountain views.
But if you have time to spare, I would suggest to visit Pokhara. Nepal is becoming infamous with small aircraft accidents, so tourist buses could be a slow but sure way to get there. I took the tourist bus and paid 700 Rupees (USD8) for a seat en route to the third largest city in the country. It will be an eight-hour trip so you may pack snacks, a bottle of water and a good book.
Things to do in Pokhara

The Annapurna circuit (Yes, that's climbing. Shortest can be done in 6 days)
Paragliding (I paid $100 for one jump. Ask your hotel personnel to help you book a schedule)
Stay in a hotel on top of a hill with a good view of the mountain. Stay there for days! #tamadtamaran
BEST TIME TO GO
In October, the weather is just perfect at around 15°C to 20°C. This is also the time when the sky clears up for you to get a good glimpse of the Himalayas…
Sorry, I am still speechless everytime I remember those moments.
THE PEOPLE
Majority of the people are Hindu and the customs are pretty much similar to that of their big neighbor, India. I never had a single bad experience during my trip, NONE AT ALL. According to one of my Napali friends, they were taught that they should treat their guests like Gods.
I got the same warm treatment from the hotel staff in all the places we stayed in and even the random people I met on the streets. Be ready to for a visual feast because only here we've seen a porter who looks like Zac Efron, a water vendor who resembles Catherine Zeta-Jones and ALL (yes, all) of them got a perfect set of teeth. Don't ask me why because your guess is as good as mine.
FOOD
Nepalese cuisine is a hybrid of Tibetan and Indian with a hint of Chinese. Pork isn't really a popular meat and cows are considered sacred so Yak and Buff (Buffalo) substitutes are quite famous.
My favorites:

Dal Bhat – Soup made of lentils and spices served with rice. The national dish.
Momos – Steamed or fried dumplings with various fillings. The Nepalese gyoza.
Lassi – A blend of yogurt, water, spices and sometimes fruit. Goes well with banana.
Tongba – The hot Tibetan beer alternative to Everest beer, when you get tired of it.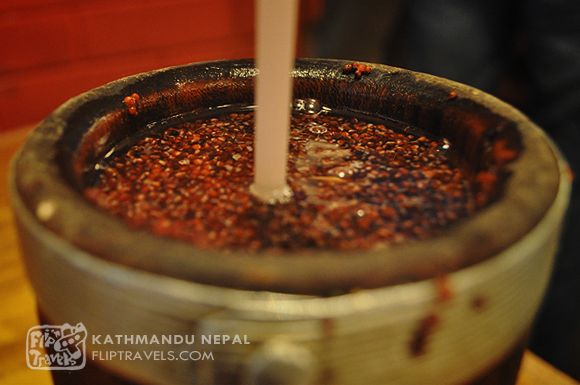 BUDGET
I stayed in Nepal for more than 2 weeks, but 8 days should be just enough to see and enjoy the highlights of the country sans the trekking bit. So here's a ballpark figure of the budget based on an eight-day solo trip.
Return flight from KL or Singapore – P15,000 ($390)

Visa on arrival  (15 days) – P1,000 ($25) 

Hotel Encounter in Kathmandu (2 nights) – P1,600 ($20)

Tourist bus fare (Kathmandu-Pohara-Kathmandu) – P900 ($20)

Raniban Retreat in Pokhara (3 nights) – P6,600 ($170) Trust me it's worth it!

Bhaktapur entrance fee (not included in hotel rates) – P650 ($15)

Cozy Hotel in Bhaktapur (2 nights) –  P4,000 ($90)

Average food allowance for 8 days (semi splurge) – P6,000 ($135)

Other miscellaneous expenses (Taxi, souvenirs, etc.) – P3,000 ($70)

————————————————————————————

TOTAL = P38,750 (US$870)

** Budget may be adjusted to as low as 25% less, depending on your accommodation preference. Return flights to KL and Singapore is not included, say if you're traveling from Manila, add P10,000 on the budget for a LCC fare.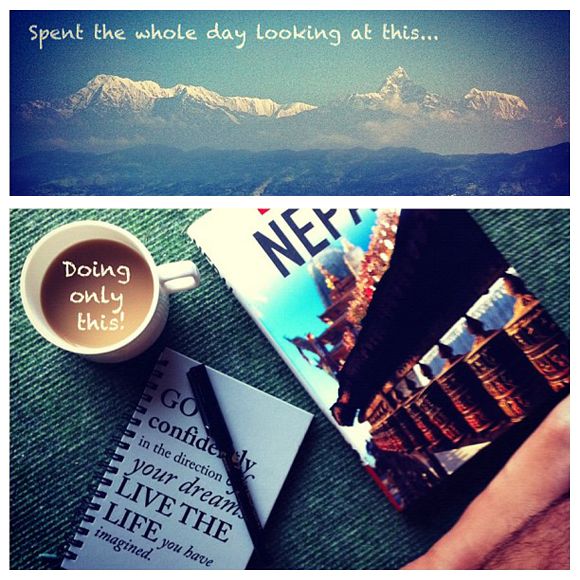 ———————————————————————————————–
Ron