published!
Sometime in 2007:

Monette: We will be "the" travel blog celebrities..
Ron:  … NO, internet sensation …
Monette: Or, travel correspondents…
Ron: Make that, Travel writers for guide books and travel magazines…
<brief silence>
Both: WAHAHAHAHAHAHAHAHAHA <cough! cough!> AHAHAHAHAHA!
We never imagined in our wildest dreams that in this life time, we will see our own bylines on printed media… glossy magazine… internationally released. It was nothing but pot of gold at the end of the rainbow.
It was a lazy Sunday afternoon, we were on skype brainstorming for the next  trip and trying to organize writing our four countries worth of backlog. When we opened our email,  brief silence was followed by vertigo inducing disbelief. We got an email from Nikki, the director of S.E.A. Backpacker Magazine.
The message was short and straight forward. Well, they just want us to be the first to write about the Philippines for their May-June Issue. We fell from our seats and our jaws dropped out of stupefaction.
The accumulating excitement was halted momentarily before it was catapulted out to space when a follow up email popped up, saying they want my Caramoan shot for the cover! And that was when Monette's panties dropped while I spat-out some half chewed Kway Teow.
<stunned>
To cut this short and sweet, we landed our international debut with two full spread feature article and a cover on S.E.A. Backpacker Magazine.
Just in time when I was drafting this post, a courier came in. I got my copy, fresh from the press!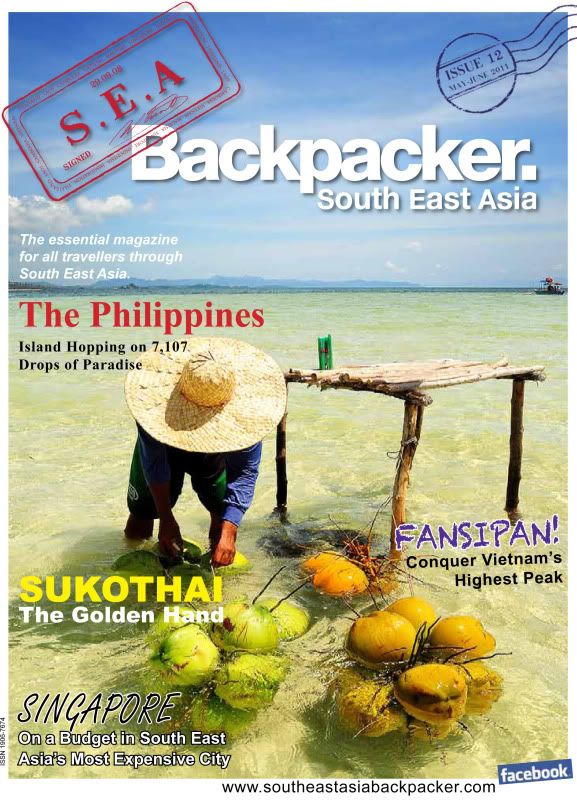 Click the photos to view larger images
Having a published article is the sweetest cake we could ever dreamed of devouring out of this passion we know as traveling. Smelling the scent of fresh print on glossy pages is la cerise sur le gateau. Knowing it was released internationally is an ultimate cherry on top of a cherry on top! But the fact that your shot is on its cover is a confetti surprise and a hot stripper dancing out of the cake.
This could be the start, and just like what Auntie Cher said "You haven't seen the last of me us!"
(Cue OSCARS orchestra music) To Nikki and everyone from S.E.A. Backpacker, Thank y'all for this opportunity you gave us to invite wanderlusts and adventurers to check out our 7,107 drops of paradise! This is the start of putting the Philippines back in the backpacking trail.
Copies are now out on news stands! You can also order the current issue or subscribe online at southeastasiabackpacker.com
UPDATE: Man, we feel sooooo FAMOUS! LOL!