anhui, anyway, anyhow.
shanghai to huangshan by bus
Few minutes away to what we felt like an impending hypothermic shock, the Bus terminal gates opened sucking the pool of shivering passengers inwards like a fast filling vacuum hole.
Sleepless, cold and hungry, we scanned through the schedule grid as fast as we can while half-glancing at the huge wall clock and waiting for Lauren to arrive. We were anxious to confirm if she was able to pre-book the earliest bus to Tunxi, our jump-off point to Huangshan.
Anxiety was brewing. If we miss the earliest trip, it will be a domino effect: We will not be able to make it to the mountain top before sun down; So we have to waste and spend one night in god-knows-where; and the expensive pre-booked mountain hotel will be wasted, out the window.
Fifteen minutes before the first bus to run. We were all sitting at the edge of the terminal bench, ready to rush to the counter, buy new tickets and leave Lauren behind.
.
"Hello guys! I got our tickets"
Lauren popped out of nowhere with her sweet and endearing voice giving us the biggest sigh of relief. Yes, that was close.
I thought we were safe until she checked the counter to ask for the gate number and immediately came back with the worried expression.
"Awww! They said this ticket is not for this terminal!"  
WHAT?!
.
Lauren being Lauren is that image of a naive girl fresh out of school, with gap year written all over her face and a proverbial talent to see virtually everything in a positive light. She is a story teller who will easily spit cute and fluffy descriptive image of a poisonous bird eating spider from the NOPE-NOPE-NOPE species.
She was still slowly absorbing the severity of the whole scenario while the rest of us were freaking-out trying to think on our feet. Going to another terminal is a huge risk—Unknown location, unpredictable traffic situation and  minimal  zero guarantee that we will make it on time—A sure punch in the dark.
It was the peak of winter and the weather in the mountains will be unforgiving, so at the last minute we bought new set of tickets and literally run towards the gate—One foot was out the door when the bus started moving.
.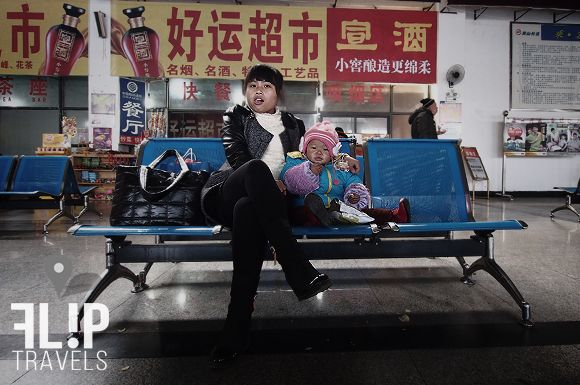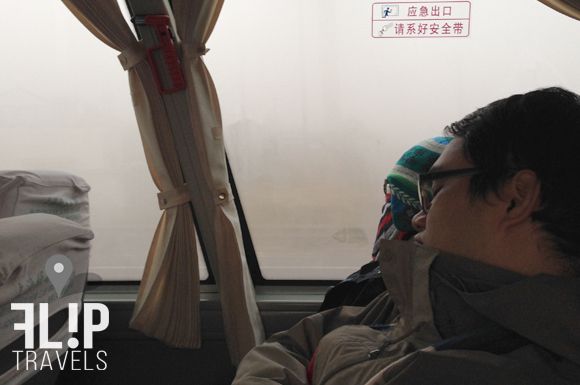 .
The absence of sunrise, the thick blanket of hanging fog and the silhouette of heavy air filtered our view of the changing landscape. Winter outside of Shanghai is like a neutral canvass with splattered shades of brown: The farther we go, the more melancholic it appears.
.
Six hours later, we reached Tunxi, a sleepy terminal between nowhere and somewhere. A midway town with mandatory dress code of neutral hues of brown, black and grey. Devoid of vibrance, it felt like we arrived in a different dimension where an apocalyptic rampage of zombies took place and dementors sucked all the forms of happiness known to mankind.
We took the shuttle that will pass along the foot of Huangshan Mountains. But none of us knows where it is, where to alight and who among the other passenger can speak basic English to guide us. With less than 2 hours to sunset, we can only roll the dice and leap in reckless abandon… We are already in Anhui, anyway, anyhow.
.
Getting to Huangshan from Shanghai

There are two trains. One leaves at 12:48 and the other departs at 21:10. It takes about 11.5 to 12 hours by train. 

There are four buses at Shanghai South Long Distance Bus Station. They all pass by Tunxi Bus Station and finally arrive at Huangshan Tourist Distribution Center.

Schedule: 06:38, 07:58, 09:08, 14:25. Ticket Price: CNY 130(Tunxi Bus Station) and CNY148 (Huangshan Tourist Distribution Center). Duration: 6.5 hours.