grab your backpack… let's go!
Backpacking is an ideal way to explore the world, at least for young professionals, students and wanderlust, who have insatiable hunger for adventure but on a limited budget, like us (read: POOR!)
As per the ever so handy wikipedia, Backpacking is a term that has historically been used to denote a form of low-cost, independent international travel, so you have to get down and dirty, bring out the scout in you because IT IS NOT THE TYPICAL TURISTA SHENANIGAN!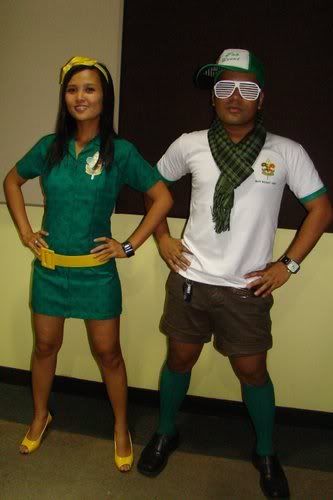 as boy and girl scouts, Halloween 2008
Here's some delineation between Backpacking and a Typical Tour
Itinerary
Tourists would rather look for package tours and pre-planned scheduled travels. They would rather pay extra to have someone prepare the where-to's what-to's and how-to's for them, which is actually half the fun.  Backpackers would plot their own itinerary and do research ahead of time, as for us, six months before and we are already running like headless chickens contacting resources and reading blogs.
Accommodation
Vacationists prefer the comfort of hotels, booking accommodations ranging from 3-star to 5-star rating. Hotels offer convenience in terms of location, accessibility, and of course, rooms. These hotels typically include transfers from airport to the hotel itself. And at times, hotels even offer guided tours depending on the vacationists preferences. Backpacking means suspending all feelings of uneasiness on rooms, searching the most affordable places one can stay in. And if all else fails, we sleep at the airport.

Sleeping at the Kuala Lumpur International Airport, Malaysia '09
Food options
Vacay means food sampling, some would go to fancy hotels and resto's to try a glamorized version of the local cuisine. Sometimes they do a faux-food adventure, they go to popular street food hub to try their pseudo-authentic menu, and they end up paying the price of commercially prepared meals. Backpacker would go down and dirty and eat in places where only locals would go to have a taste of REAL home cooked delicacies. Not to mention it's cheaper, Waaaaay cheaper!
Shopping
May it be clothes, souvenirs, or anything one can lay their eyes on, vacationists have the luxury of buying items and taking them home even if it means they have to pay extra for excess baggage. For hardcore backpackers–what shopping? With all the time they spend on the road, going from one place to another, there wouldn't be room for any souvenir. As for us, we can only manage to but ref magnets from every country we've been to.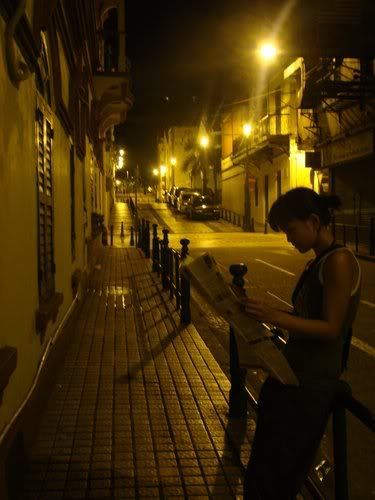 Tracking our way back to our homestay, Macau '08.
Seeing both sides of the coin, one has to decide what type of traveler one wants to be. Each has pros and cons, but for us, the uncertainty of where to sleep, what to eat and where to go next is more enticing than any other five-star hotel and chef-prepared food.
Backpacking is more than just playing boy/girl scouts or Dora and Diego (or Boots), it's a lifestyle!