macanese food trip
Food is the best way to a man's heart, that's why we try to sample most, if not all, famous cuisines one country has to offer. We Filipinos are known to be adventurous in terms of anything that can please the most longing of stomachs, and so we embark our travels with our palates to please.
Macau started out as a trading gate for fishermen and farmers and in the 1550's, a port from which the Portuguese emerged. Their cuisine is a fusion of Iberian flavor and ingredients of home. We weren't so lucky to taste any Portuguese meal BUT we got to sample what the cobbled-stone streets of Macau had to offer!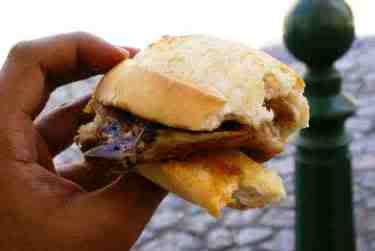 Pork Buns (15 Patacas)
Let's imagine a pork chop (bone included). Now, let's imagine a baguette. Now, let's imagine that pork chop inside a baguette! Very appealing huh? The concept is so simple and yet it took us a while to digest what we are about to eat. Or maybe because the bread was just soaking in myocardial infarction inducing goodness that we had to stop once in a while to spit out a bone.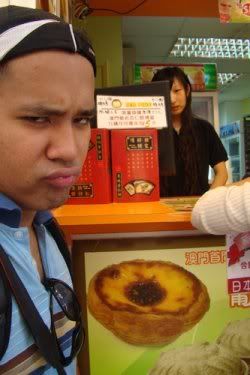 Portuguese Egg Tarts (20 Patacas, 3 small pieces)

"Sobrang sarap, gusto kong umiyak!" (It's so good, it makes me want to cry!) was the only thing we can utter after one bite of these heavenly tarts. The out-of-body experience starts on the crust which is very croissant-like, flaky and buttery. Then you get to the custard center that melts in your mouth, tickling all the sweet buds on your tongue.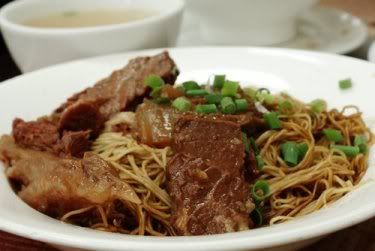 Egg Noodles (24 Patacas)

What best way to enjoy Macao than to sit in an authentic Chinese restaurant and enjoy an authentic Chinese meal. We found this restaurant sitting in the middle of Lagro De Senado, serving what seems to be everything genuine in a Chinese menu. Apparently, this restaurant is one of the pioneers in making egg noodles in the island, their original recipe passed on for several generations.
Almond Cookies/ Beef Jerky
These cookies and beef jerkies abound the streets of Macao, decorating bamboo-woven trays with pastel colors and lining the side streets with curtains of red. And for some weird reason, we didn't buy any. We figured the almond cookies are like polvoron we can buy in any sweet shops at home. Turns out they are very popular among visitors.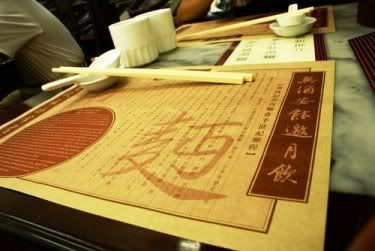 Food Court – Venetian hotel
The food choices at the Venetian Hotel food court is as wide as the man-made river they got running inside the ginormous super-structure. They've got fancy restaurants, chic bars, popular food chains and not-so-popular diners. One can also compare the prices to the haute-couture shops inside the hotel. Even the hotdogs in food stalls loitered along the halls are so expensive that we prayed for a second helping of pork buns.
Casino Refreshments
Thirsty and no coins to spare? (711 bottled water costs 7 patacas) Fear not for the casinos that trickle the place every square mile can quench your thirst! Go inside, walk around, observe people play. Oh look! A trolley! Approach the trolley and take a glass of whatever you want. They have water, soda, tea and maybe juice. Then walk away. Walk away and never look back.