inside the stockings: Singapore Mint Museum of Toys
Christmas is about presents, gifts, celebrations, love giving and groping someone under the mistletoe. But as adults, we would always go back to the days of our childhood when Christmas was purely fun and happiness. Those times when we don't have to worry about bills and responsibilities; heart aches and life's drama or how on earth will we be able to make our budget work for holiday shopping while juggling other expenses to support our ADL's.
That's when we just want to wish one thing this Christmas: To go back in time to the years when Christmas is still merry, and that day of the year when we (kids) are richer than the tax payers.
My old toys, which are still kept in my parents house, always remind me of those years. A trip to the toy museum is the nearest thing I can get close to entering a time machine…
The Singapore Mint Museum of Toys is a shop house converted to a (well) museum and it has several small and narrow floors.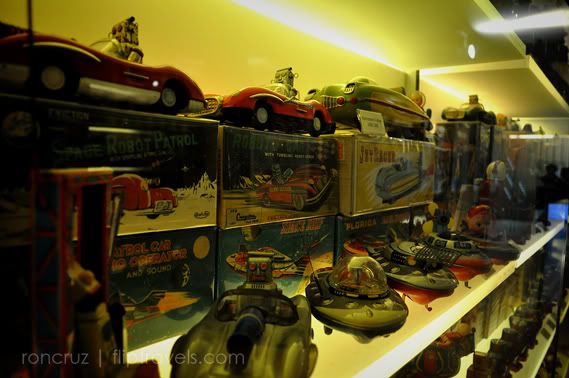 You should start from the top deck going down, where you can see all sorts of toys from space saucers, robots and anything that screams boys' toy.
Buck Rogers got these tacky tin toys that inspired that Gil Gerard TV series and later an asian version known as Shaider.
Flash Gordon in the times when he was still borrowing skirts from Jadis the Ice Queen.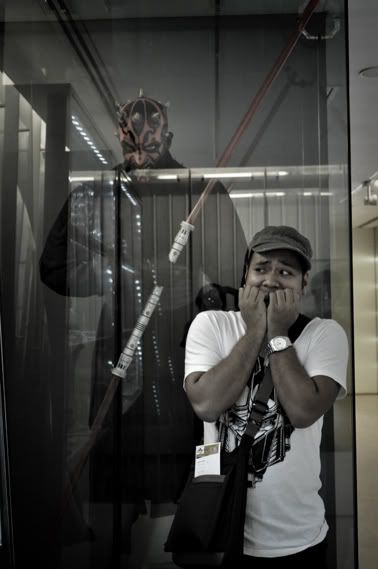 Darth Maul is a bit out of place here though
Most toys doesn't have a history description which is a bit sad. I was assuming that this one is one of the first prototype Robots called ROBOTA when Karel Kapek came out with the novel RUR.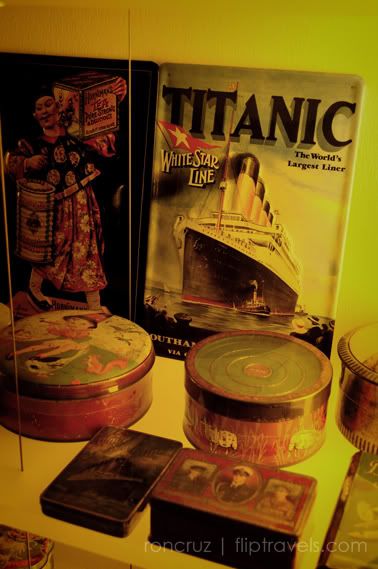 A rare Titanic biscuit canister. I'm not really sure why it is here
Remember this little boy, Astroboy? The one with a machine gun coming out of his butt?
These may look like your ordinary chalk ceramic figurine that you put on top of the birthday cake, but they are actually chalk ceramic figurine that you put on top of the birthday cake, back in the 1960's.
Batman with man boobs!
Movie poster that is very suggestive of pedophilia. Not to mention that the font color is in bold fuchsia, to be fair!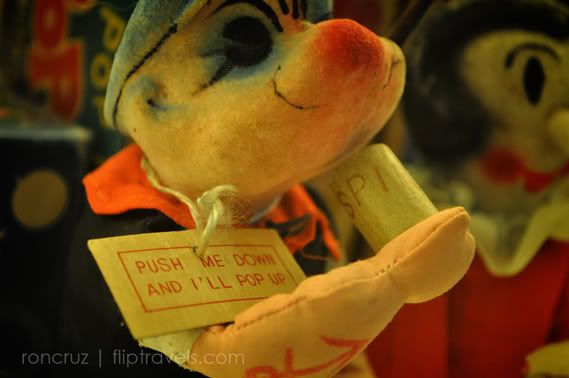 Popeye after a fight with all the hematoma and blood stains. "Push me down and I'll POP up?" Kinky eh?
HOLY MOTHER OF …. Mulan!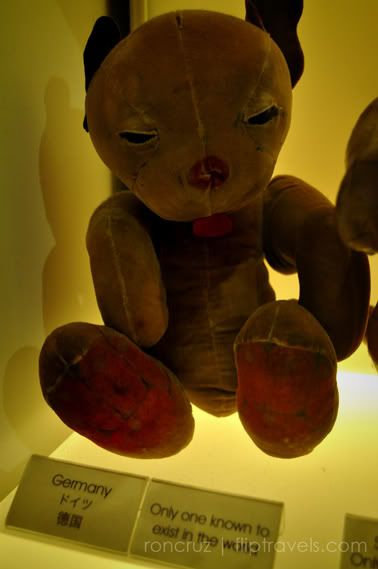 When Snoopy looked like some aborted fetus.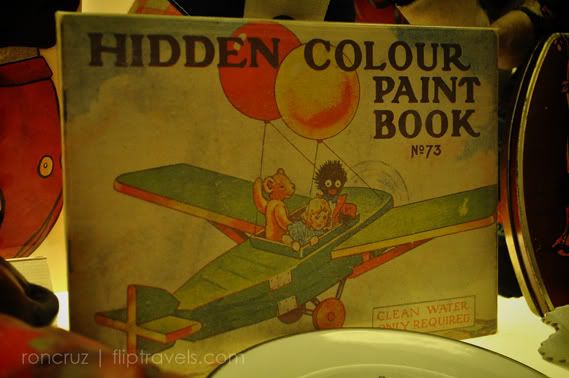 I used to have these coloring books until my dad realized that a wet brush alone will not hone creativity. Duh!
Mickey Mouse in still life as a sewer rat.
One little, two little, three little, four little niggers… Five little Nigger boys! NOT FUNNY!
The first release of Barbara Millicent Roberts doll AKA Barbie. So what ever happened Allan, Midge, Skipper and Skooter? Hmmm someone played a Beyonce along the way!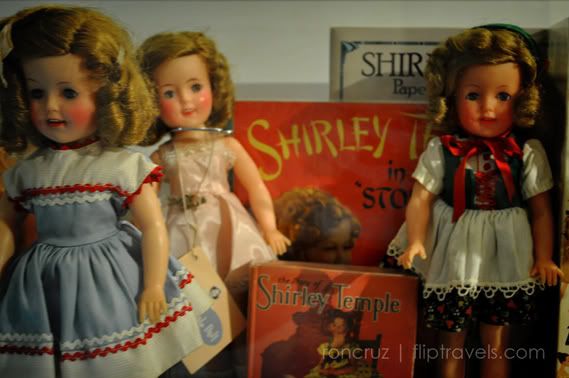 Yes there was a Shirley Temple doll. The girl who paved the career path for Vilma Santos and Matet de Leon. Jolina started manufacturing her own doll too, which only she herself bought in the end!
How about a Lindsay Lohan doll that comes with mock foil and paraphernalia?
The toys that made me stop and stare on the glass cupboard were the train and matchboxes, my favorite toys ever!
Singapore MINT (Moment of Imagination and Nostalgia with Toys) Museum of Toys is the world's first purpose-built museum for toys, and opened its door to the public in May 2006. It was officially launched by the Minister for Foreign Affairs in 2007.

The museum is right besides Raffles Hotel, you will see two black-coloured umbrellas with Mint Museum of Toys and Mr Punch Restaurant & Winebar logos at the main entrance.

26 Seah Street  Singapore 188382 | 6339 0660 | http://www.emint.com/
I remember hanging a stocking in my bedroom window waiting for Santa Claus to sneak and slip my toys in. Nowadays, kids are more clever and upfront, they will go on a witch hunt for their Santa and ask for cold cash so that they can buy their toys (iPhone, XBox and iPad).
This Christmas day, expect kids you don't know showing-up in your doorstep and kids you know showing-up in your doorstep and claiming your 13th month pay. Then you will find yourself the next morning staring in to nothingness, with an empty pocket, plotting a kidnapping modus operandi.
This season is about giving, seeing these young people enjoy their presents with sparkles in their eyes is enough to bring back that warm feelings of the yesteryears.
Merry Christmas Everyone!