fliptrip: pinoy vs. the vietnamese tour guide
FLIPTRIP is a collection of stories of non-blogging travelers that are just too good not to be told. Every  week  now and then we will be giving them the spotlight while we take our time to break our sobriety. To give you a sampler, here's a story of my fellow expat in Singapore during his recent trip in Vietnam.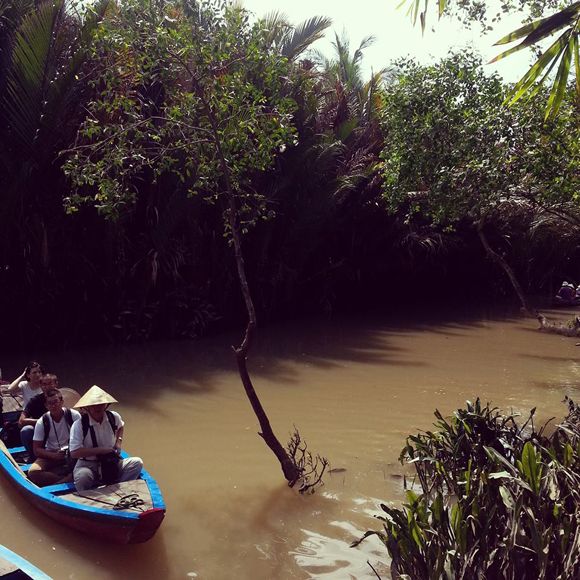 On my second day in Ho Chi Minh. I joined a tour with an English speaking Vietnamese guide. And my encounters with him are somehow.
Tour guide: Here is a ricefield. Those who want to take pictures with the rice field… Take photos now.
He was sitting next to me and he knows Im a Filipino. He urged me to take pics with the rice field thrice but I just smiled. I wanted to tell him that my parent's house in the Philippines is literally surrounded by rice field.
Me: We have many ricefields in the Philippines.
TG: So take a picture now with Vietnam's ricefield!
—————————————————————————
Tg: here is a sleeping tree
He showed to the group, an herbal plant that we also have in the Philippines and I am pretty sure it is not a tree
Me: ah that's not a tree. That is a "sleeping plant" an herb or a shrub but not a tree. Scientific name is Mimosa pudica…
Everyone started looking at me
Me: That is not a tree. I swear.
—————————————————————————
Next stop was the Xuan Loc Bee farm
Tg: everyone you should try this honey wine
I am on a liver rest but heck I should try this wine. I filled a shot glass on the table and gulped every drop of it.
Me: That's not a wine! Im supposed to be on liver rest! (Brat mode)
Tg: it's a wine…
A dutch woman with tattoos and piercing on her nose took the shot with me.
Me: it's a vodka with a honey right?
She confirmed my suspicion.
—————————————————————————
Tg: Here is unicorn island on your left
Me: Why is it called unicorn island?
Tg: (no reply)
Tg: Here is dragon island on your left
Me: Why is it called dragon island?
Tg: (no reply)
Me: Why are there graves in the ricefield?
Tg: You're not listening..i already told you
Me: (no reply..i just googled the answer)
Tofi Tambo is an accident and emergency medical doctor and a travel enthusiast. We met in high school when we joined the–wait for it–glee club (I know, right?) and after 15 years of separation, we finally caught-up during my Siem Reap trip last year. His name may sound like some starlet rejected by Seiko Films but he's a real life Dr. House: Critical thinker with some serious alcohol issues. I'm kidding. About the thinker part.
Do you have a Fliptrip story?
Send it over via fliptravels [at] yahoo [dot] com.