bagan experience: the good, the bad and the stinky
BAGAN. The ancient civilization of—yada yada yada—I am not writing the cliche narratives that it is magical, awe-inspiring, surreal and all other adjectives that has been repeatedly used since the time of Marco Polo.
If I will be forced to write about this majestic land of thousand pagodas, it will go something like this:
I saw an awesome temple in front of me… and beside me… and another one behind. I walked for five minutes and (Loop 10,000 x). End of story. 
So let's just talk about other things that I experienced behind the serene pictures of impressive temples and the old Bagan landscape.
Bagan's bipolar weather drops to 12°C at night and hits 40°C by noon time during the dry season.
I hate humid weather, arid climate, steamy afternoons and hot temperature simply because I sweat like a pig. I certainly do not like the feeling of dripping with bodily fluid making me look like a walking roasted Lechon. I have an irrational fear of my armpit frothing like a lid of hot machiato cup and looking like a raped prostitute in pictures.
For a road trip less than two weeks, I pack a bagful of clothes enough not to send me a trip to the laundromat. So I hereby confess that I fold soiled sweat-wet clothes in a ziploc bag and it flies with me back home. Aaah! The damp beer shirts and its distinct scent of a stray cat with absolut vodka poured over it.. Disgusting but F you if you deny that you are guilty too.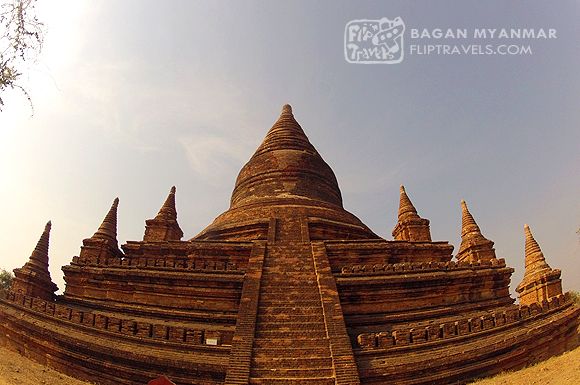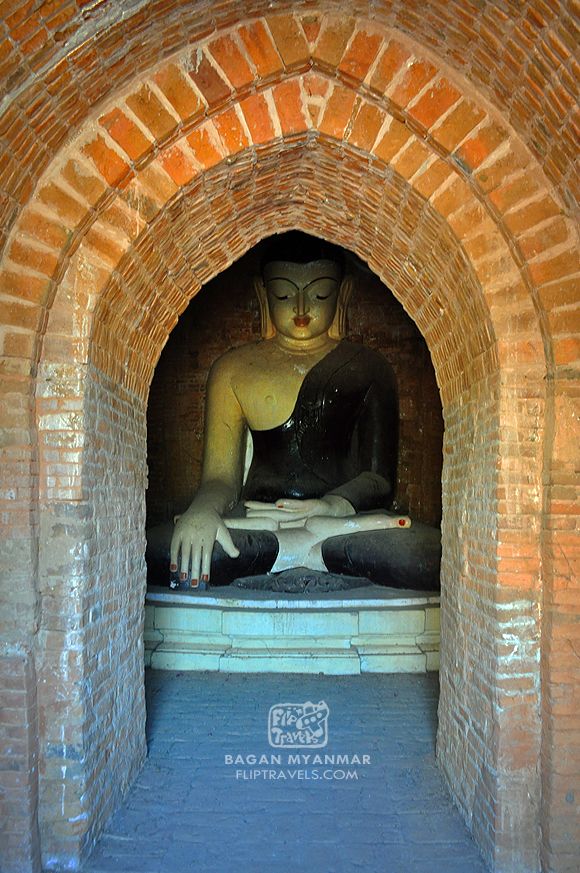 Biking is fun and everyone with an energy of a high school student should try it out even just for a day, or maybe an hour ($5/day). I know you will say that the idea of biking is so cinematic as you glide across the temple studded vast plain, while your hair catch the breeze, the sun kiss your cheeks and Gabrielle singing 'Sunlight' in your head. Tell me all this after you pass through the sand pits where your leg power will be tested and end-up walking home with throbbing calves, aching butt cheeks and harassed perineum.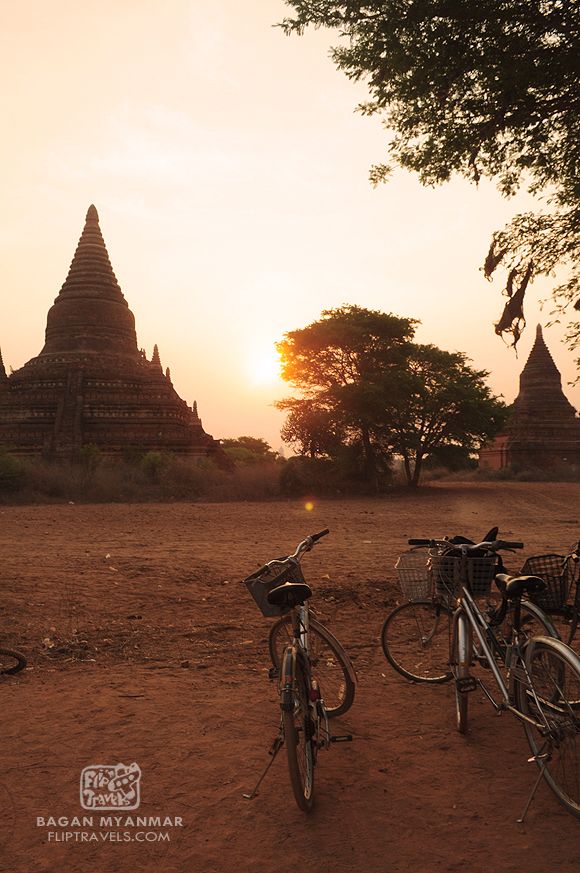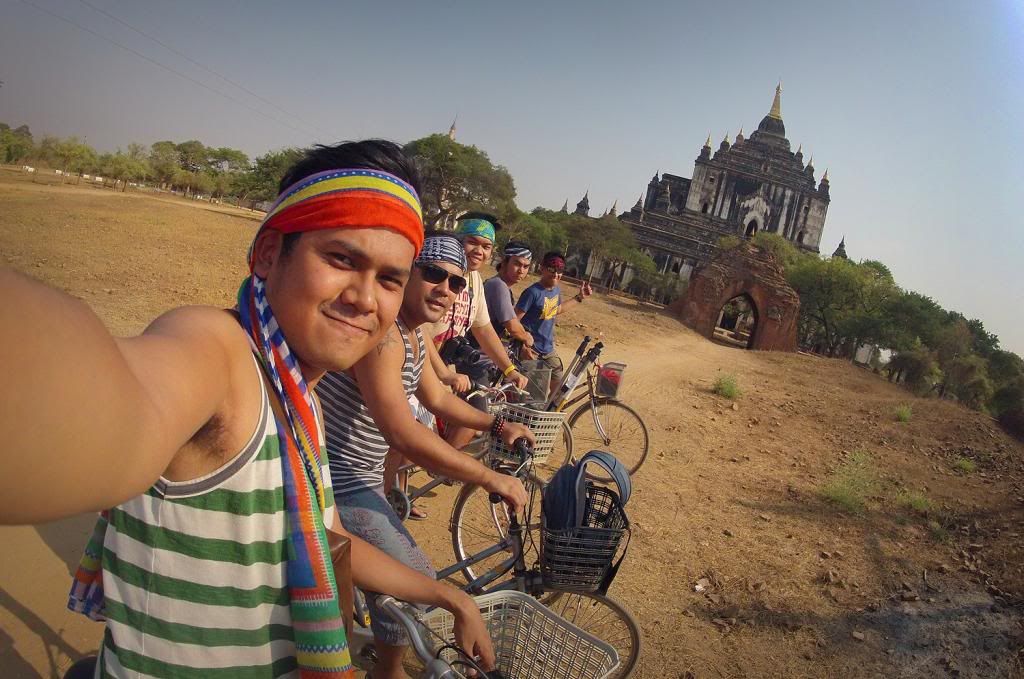 On our second day, the rest of the boys (Marky, Robbie, Dong and Jerome) pushed their pedal powers to the edge and decided to explore the far bounds of the old town. I ain't gonna commit suicide by joining them in their are-you-fcuking-kidding-me adventure. When in Bagan, going out of the hotel at noon time should be categorized under extreme sports side by side with deep sea diving, rope-free rock climbing and bear wrestling.
I decided to chill by the pool, drink my lemongrass juice and swim with Luna. While Monette stared blankly into her own astral plane, Gay took advantage of Luna-less afternoon and Melo struggled finding a good spot with wifi connection. Just before sunset, the boys came back dehydrated, exhausted, hungry and speechless with wide stretched nostrils. Robbie fell sick that night and Marky stopped talking to everyone.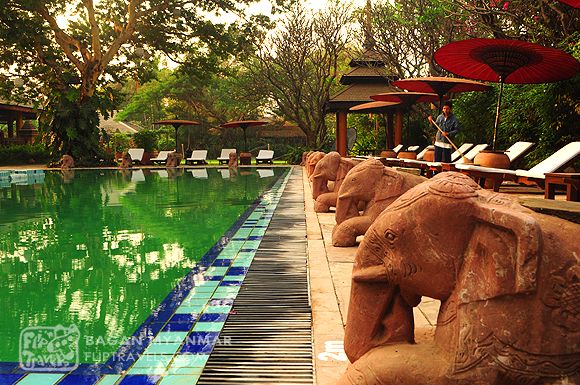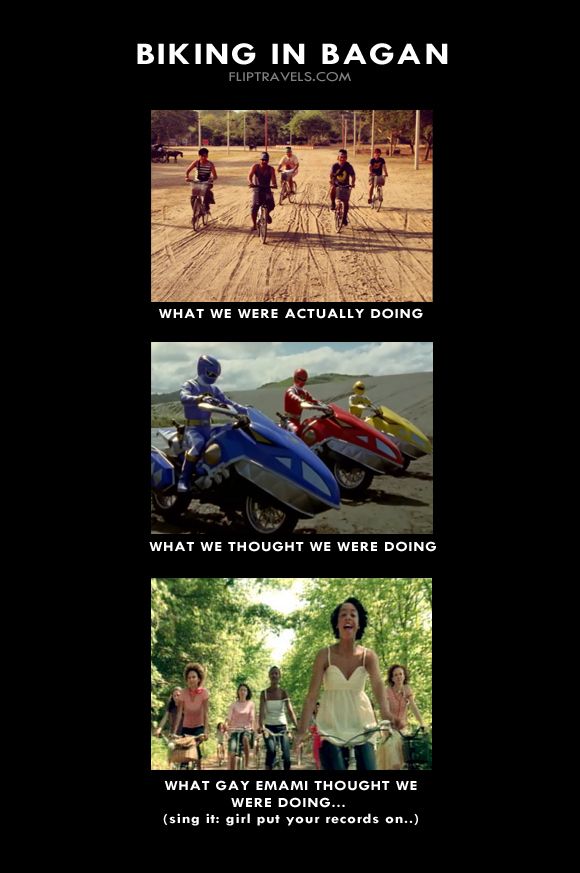 The sunset and sunrise are probably the biggest attraction among tourists and photo enthusiasts. At around 5-ish there will be an exodus of people heading towards the popular temples with the best vantage points for sunset photography. The Shwesandaw Pagoda should be the most popular platform. As expected, buses of tourist came and squeezed themselves-in to find a good spot facing the Irrawaddy river waiting for the daily spectacle of twilight.
The view is top notch, but the too-crowded-for-comfort venue turned me off a bit. Travelers from all over the world were yakking non-stop at the same time to a point that the top deck of the pagoda started sounding like as if we were in an aviary. It smelt like an aviary too! I think someone ran out of clothes and decided to wear the damp beer shirts. So the air was filled with the scent of a stray cat with absolut vodka poured over it.
So the inspiration to take awesome photos flew out the window and I stormed down the pagoda even before the sun touched the horizon.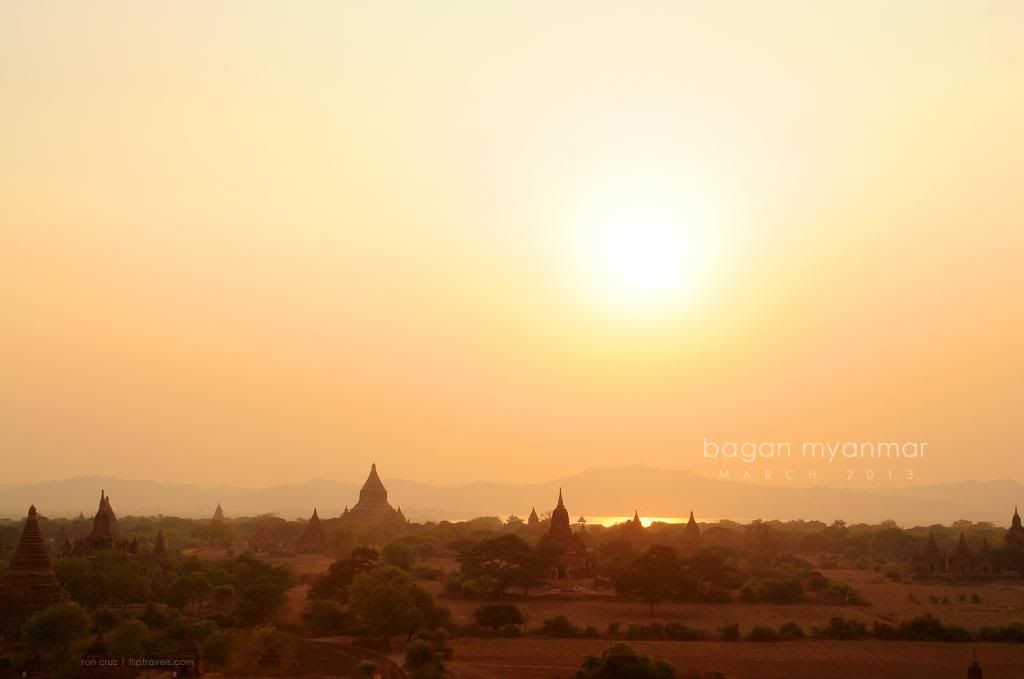 Just like in any other places in the world, there will be experiences like these and it will never be the postcard experience all the time. Behind all the photos we post online there will always be experiences that are ought to be shared when we go back home—The good, the bad and the stinky.  These are the very essence of traveling and the contrast makes the adventure more dynamic.