buddha's surf resort: where to stay in siargao
Few miles from Sayak Airport on board an ATR-72, I held on to dear life amidst the whips of dark clouds when the captain's voice broke the aircraft's monotone hum.
pilot: Ladies and gentlemen, we will be sustaining at 1,000 feet a little longer due to the weather condition.

me: oh dear…

<20 minutes and four landing descend attempts later>

pilot: we will be attempting a reverse north approach and try to touch down from the other end of the runway

me: ATTEMPTING?!!
The resort that we booked helped us arrange a van service that picked us up together with some backpackers from god knows what drama-land. 45 minutes and hectares and hectares of lush greenery later, I found myself stepping-in to my home in the next few days.
I couldn't help but give Gay (pinaytraveljunkie.com), Melo (outoftownblog.com), and Lai (pinaytravelista.com) that face I usually give when I want to say "NO EFFING WAY!" but too awed that I couldn't even utter an "F" sound.
LOCATION
Buddha's Surf Resort is located in General Luna, a typical coastal town that got stuck in the pre-war Philippines. The small wet markets, houses 50 meters apart, rough roads and that undeniable smell of crumpled grass mixed with salty sea breeze.
A good ten-minute walk from the town center and a block away from the beach, it was slowly unfolding to be my kind of escape I wouldn't trade for any shopping trip.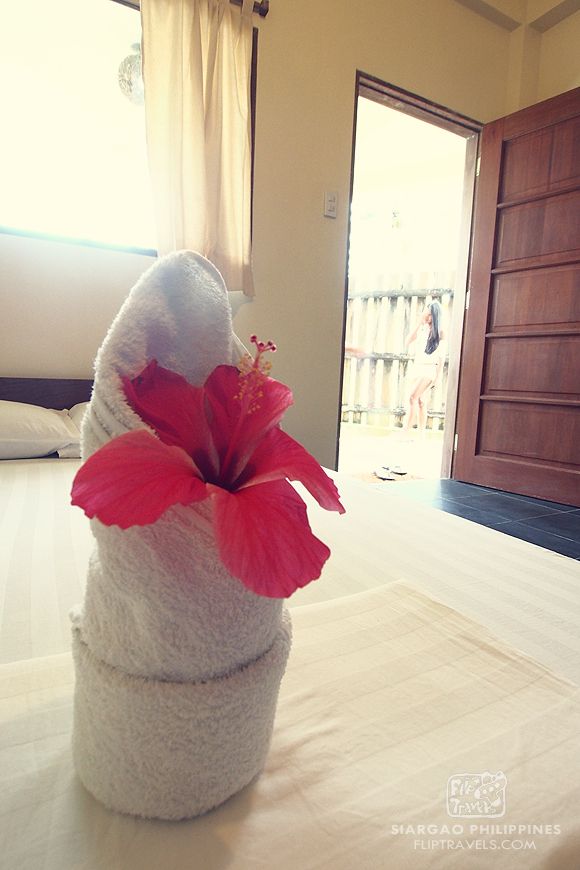 ROOMS
It started raining.
I usually feel upset when the weather isn't cooperating during a holiday weekend and I am in that pathological beach-y mood. But after 24 hours of no sleep, with no tantrums I surrendered to the lures of inviting queen size bed for each one of us, just stay indoor and roll back and forth the whole day
Tropical-inspired architecture and design captured the essence of the island living without compromising. The Nipa roofing provides an imposing feel of what traditional Filipino houses should look like. From the outside it is down right proper without compromising style.
My happy quiet corner (one of three beds in the family room)
In the tune of P3,000, we got a spacious family room with three queen size beds big enough to hold a house party. Though I believe the lighting is pretty basic and could be improved to give a complete luxury feel (because the facilities are already at that level), but for P1,000 per night for each one of us, I could not ask for more.
All rooms got Air Conditioning, hot showers, fluffy towels, crisp linens and that single most important thing at the base of our hierarchy of needs—Wi-Fi.
A strong Wi-Fi signal is something that is considered a rare find in islands where people are still selling petrol in Coca-Cola bottles. We all agreed we could stay here for months without turning into a Linda Blair out of Internet withdrawal.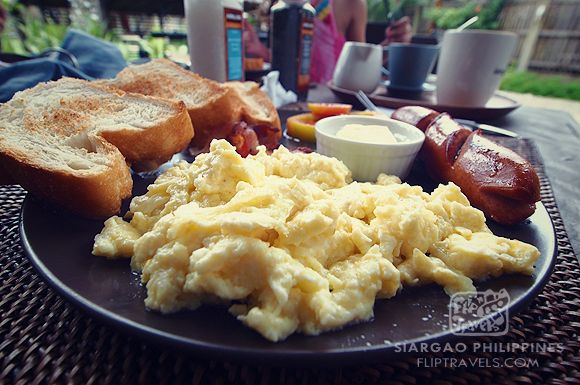 FOOD
I know it will be a seafood fatale but I wasn't really expecting that Buddha's Surf Resort's kitchen could whip some serious respectable plates with finesse and quality. Yes, I may not be crazy about their Pad Thai and Red Curry, but a serving of chicken salad with pineapple & cashew nuts is surely a homerun.
Surfing is a robust niche where patrons are troopers. Plate a sloppy peanut butter sammie and a bottle of beer and everyone will be a happy camper. So to have a plate of fine breakfast with a well-seasoned egg, Hungarian sausage, Canadian bacon and a French baguette toast is more than admirable.
Come on, free breakfast with a baguette (or baguette-tasting) slice of toast for breakfast in Siargao? The hotel where I stayed in Montmartre Paris should feel so embarrassed.
RATES
Standard room
2200PHP/night (per room) – *breakfast included
Superior room
2650PHP/night (per room) – *breakfast included
Family room
3000PHP + 100PHP/head – *breakfast included
Arranged airport service
300PHP one way
Morning walk…
… to the beach
I set my expectations low every time I go to un-spoilt locations like most destinations in Mindanao, because that means commercialism and par standards usually have not reached the far-flung spots yet. Which is a good thing in most aspects.
I like the fact that Buddha's isn't one of those resorts that are like pigeon houses with too much guests making one's trip feels like a day in a mall. I came here to cool down, spend time mulling over nothing and enjoy a weekend of island living. I got that, in style.
Buddha's Surf Resort 
Catangnan, General Luna
Siargao Island, Surigao Del Norte, Philippines
Email: buddha@siargaosurf.com
Mobile number:  +63 (0)9199 456789 (SMS only)  +63 (0)9282 079631 (all calls)