November 1, 2014
In
india
delhi: first impressions
By: Ron Cruz
.
Who will be ready for India? For sure I wasn't. But will anyone ever be?
My destination for this trip was Kashmir and before I start haranguing non-stop of its awesomeness, let me tell you a short story of Delhi and how she welcomed me:
.
Delhi, the capital. She is that neighbor who is studded with secrets; the eclectic woman who collects junks like cloths, plastic ornaments, bright stained bottles and hanging them as decoration of some sort; whose kitchen spew fumes of rich spices, herbs and floral extracts that would tickle even the most jaded taste buds of residents across its 500-meter radius. She is that neighbor who dared not speak to anyone but flashes a genuine smile, but no matter how uneasy it makes you, there is a certain warmth that you are consciously trying to deny because she is shrouded with clandestine reputation…
Well, you get the picture.
.
It was hot when I arrived, actually too hot. At 40°C, I was juicing-out sweat on all surface of human anatomy. The scent of something burning kicked my adrenalin—it was me, the sun was scorching my skin.
My local host brought me to his place in Jeevan Park.
Jeevan means LIFE in Hindi, and the place is living-up with its namesake. I googled the location and I couldn't seem to find any photos of the streets and alleys. Perhaps nobody attempted taking out their cameras or phones for obvious safety reasons.
It was like Tondo but more notorious, like Sampaloc but more cramped, like Binondo but more visually stimulating.
Cars all covered with thick dust, dents and scratches, parked along the alleys meant for one-way traffic. How we eased our van through it is beyond my faith and sanity. Not to mention an obstacle of kids walking home from school consciously ignoring the continuous car horns. Don't even dare shouting at them and they will throw rocks on your windshield. Which explains the dents and scratches…
Well, you get the picture.
.
.
On the roadside is a garbage disposal area with cows, birds, dogs and pigs scavenging for food and lying down for siesta. Right across is a place radiating with robust machismo—pop-up barbershop, gambling huddles of some sort and make shift drinking tables where men age 14-50 nestled closely for an afternoon session.
The sightings of men casually holding hands gave me a reassurance that they are harmless.
So, I stepped-out of the van, closed my eyes and charged-in. Lo and behold! In front of me was a police officer grabbing a young man by the collar and bitch-slapping him repeatedly, it looked so painful Tim McGraw would be proud. The goal was to buy 4 bottles of Ice-cold Heineken and leave as fast as possible.
But things happen faster in Delhi, I turned around with cold beer bottles in my hands and the guy behind me raised his bleeding hand with a facial expression clearly saying I don't give a fuck. Before I even get the chance to investigate on what and how it happened, my host Rajan (not his real name) appeared out of nowhere, grabbed me by my shirt and dragged me to the haphazardly parked van "Hurry, HURRY! We need to leave the place!"
It was so full of life, I never felt so alive.
.
The scents in the air are extremely confusing that it could induce epileptic seizure. I was trying to identify what or where the smell is coming from as we drive through the city, but it was impossible: Curry, cumin, wet barn, burning curry, garbage, jasmine, electro-cautery no mutton kebab, cinnamon, dog poop no human poop.
With heat, shocking incidents and olfactory test, It was nothing short a full sensory assault.
Delhi is the affirmation of why I wanted to see the world. This city is so rich and stimulating, it excites me pleasantly and otherwise. It may not be a manicured holiday destination and they won't provide kiss-your-ass service, but at least the people are real, what you see is what you get.
.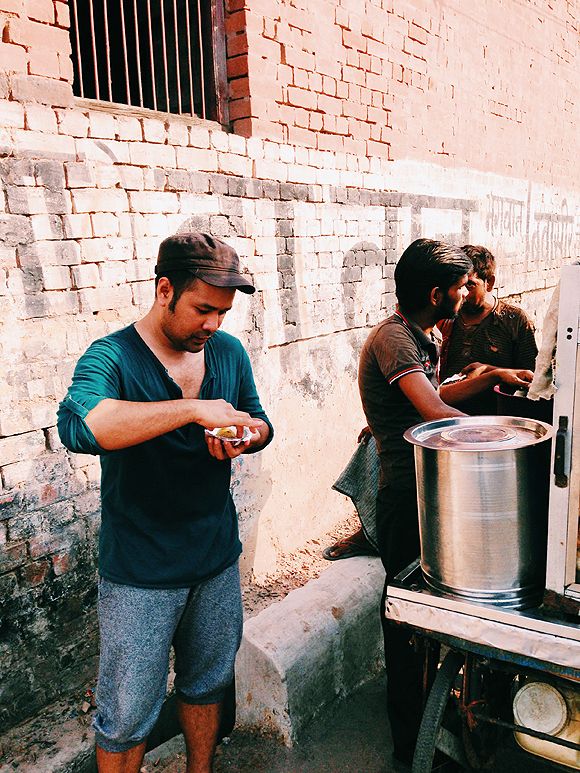 .
I asked Rajan if I could give Pani puri off the street a shot. He told me not to, "I'm Indian, and if I eat from that vendor I will have diarrhea."
I insisted. But that means I need to cross the street and Delhi drivers are those types that came right out of Grand Theft Auto V. So I found myself stuck in the middle of the road, like a helpless kitten confabulated as to which direction to turn "Oh sh*t, WTH!? F*******k!!!"
Again, Rajan appeared out of nowhere to save the day "It's ok, it's ok, no problem. RELAX… Hold my hand." <slowmo… cue: Got to Believe in Magic!>
Well, you get the picture.
.
HAVE YOU BEEN TO INDIA? TELL ME YOUR STORY IN DELHI.
.