Getting Leh'd
.
Rain. The drops of heaven carrying the nuance of childlike wondering. But these pervade every inch of my being like the countless spirits that permeates every mountain and rock, every island and bay.  Intangible as mist, unavoidable as gust.
.
After hours of driving from Leh across Ladakh and the tormentous looping sounds of Selena Gomez and Miley Cyrus, we have reached the village of Hundar. I had no doubt that it was the remotest place that I have been to in my entire life of existence. Imperatively, going to the moon is easier and faster than the route I went through in the preceding days. It was so remote that not a single living creature looks familiar.
Except for a tent attendant. Finally, someone who fluently speaks english— "I'm Krishna Arjun, I'm from Nepal." I knew it, his comforting smile seemed to be something I've seen before. I greeted him with my toddler worthy Nepali and called him with the familial endearment "Bai."
It was an instant connection. He grabbed me out of my tent and asked me to follow him. His level of enthusiasm was a promising break from the monochromatic hues of the surrounding and sleepy hum of the running brook.
There was an unspoken sense of adventure as we walk out of the tent ground. We strode across the seemingly pre-civilized village with a vestigial bravado like as if we will be committing the biggest violation in the valley's nondescript history.
.
We passed the bush field teeming with yellow berries. He told me it was edible, essentially everywhere, but almost unobtainable by the prickly thorns around the stems. I asked Krishna to take a picture of me with the berries. It was uneventful until a wooly beast of some sort popped into the frame. I practically ran and yelped with a girly squeak.
Rule of thumb: If a creature doesn't look like a pet. It could potentially eat you alive.
.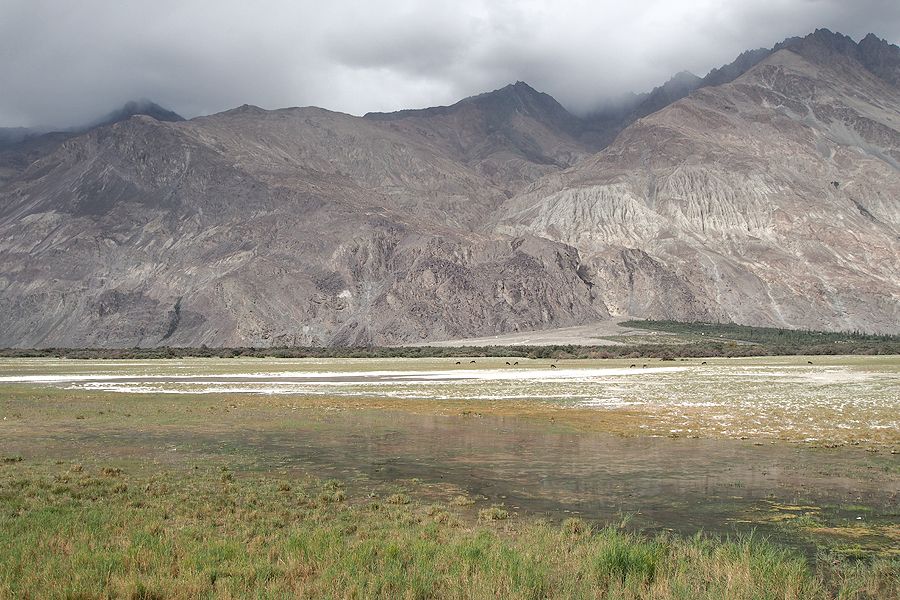 .
Leh is nothing like the India that most of us know. He is arid, India is moist. Cold, the other is sweltering. Reserved, India is passionate. Subdued, she is stark.
We walked further past the dunes. Krishna's boyish enthusiasm suddenly turned into a defibrillating ecstasy.
"Why? You found a WIFI signal?"
"Raining! So beautiful"
It was drizzling, so what? He explained to me that rain rarely falls in this part of the world and the misty showers only happened in recent years. For them it is a spectacle, a magical display of nature like how snow flurries through the imagination of people like me who grew up in the tropics.
"In the island where I came from, we have this rain all the time."
"I've never seen an ocean before, is it true that the water is warm?"
It was difficult to for me to wax poetic on the tropical paradise and pinacolada when I am quivering under the rain like a patch of fully inflamed cellulites.
I described the beach with paltry adjectives. But it was enough. Enough to make him sigh deeply, imagine wildly, and literally gasp for air.
.
——————————————————————————————————————–
Envy is human nature. We crave for flavours that are out of reach and long for something we don't have or otherwise would never own. But these are the thrills that keep us thriving, the insatiable thirst that churns creativity, the yearning that fuels us to dream and the need that gives us the reason to live.
——————————————————————————————————————–
He asked me a question while walking back to the camp "Do you still find India exotic?"
I got reminded of the toilet habits in the streets of Delhi "Yes, India is very exotic!"
"So, how long will you stay?"
"In Ladakh?"
"In India."
"Until I get Leh'd"
.