hamilo coast @ pico de loro: quick escape near manila
hamilo coast @ pico de loro: quick escape near manila
The most common first impression of inbound travelers upon landing in Manila is usually revolving around disillusionment. The urban chaos smudges what they have in mind when they planned the trip, the lush tropical tourism brochures are nowhere to be seen, unless one hops on a connecting flight to the provinces where the inviting commercial paradise is waiting.
You want a beach escape shrouded with convenience? Go to Boracay. How about a beach stripped of all it's Boracayness? Go to Palawan or make a thorough research and choose from the 7,107 options. You don't have enough time? Then stay in Manila and stop complaining.
.
In the past, quick side trips near Manila is synonymous to two names: Tagaytay and Corregidor. But there's no beach in Tagaytay, and Corregidor is too American drama series summed-up in one small island.
In the past, the nearest acceptable beach to my standard is Laiya, Batangas–About 3-4 hours drive. Next one is a boat ride away from Batangas port, Puerto Galera. But Galera's White Beach may be too pedestrian and glittery for some travelers.
I first heard of Hamilo Coast when I got the invitations to sign-up for exclusive membership few years back. Sure the place got the amenities that would rival the top resorts in the country, but it was then 4 hours away via Tagaytay-Nasugbu road. Until the new CAVITEX road opened in 2011, the wardrobe opened to Narnia cutting down the travel time to just 90 minutes, and possibly 60 if you possess some Jedi driving skills.
.
My first trip of 2015 is primarily for my family. My sister walked down the aisle and Hamilo Coast was the grand setting of the biggest event in our family to date –I would surely not ask for anything else. So yeah, long story short, I flew all the way from Singapore to attend my sister's big day with all the anticipated inquisitions of both close and unknown relatives as to when will I go next (kill me now). I am just glad that the location compensated with the mental strain of inventing excuses and flashing forced smiles.
My sister is crazy enough to make me her man (maid) of honor. Whatever happened to the honor? I don't know either.
The easiest way to ease the toil of my role in this wedding is to think of it like as if I am just up for a short vacation, Hamilo Coast made that so easy for me to just grab a bottle of pale pilsen and watch the organizers cram while a I relax in my own bubble of blissful schadenfreude.
.
I tagged along one of my closest friends, Gay of pinaytraveljunkie.com. We left manila at 6AM and a straight highway later, we found ourselves swaying across the lush sanctuary at the southwestern tip of Luzon, this is what first time travelers are looking for, the green tropical landscape like those of tourism brochures.
Tucked nicely within the coves and ridges of Pico de Loro, Hamilo Coast welcomed us on a misty morning just in time for breakfast.
I'm on a salad diet!
FACILITIES
Sun Coral Cafe, Reef Bar, Brisa Bar, Lagoa Restaurant and Pico Restaurant and Bar
Boutiques and shops (Kultura, Grab n' Go
Adult and children's pool
Massage and spa (Rain Spa)
Gym, multi-sport courts, dance studio, videoke, game rooms, B&B (Bowling and Billards)
St. Therese of the Child Jesus Chapel (With stunning view perfect for weddings)
Beach and water activities
ROOMS
Rooms are good for maximum of 4 people with free buffet breakfast for two.
They usually offer early bird and 2-night stay discounts at 20% off.
** Please take note that Pico Sands Hotel is open to members and their endorsed guests.
WHAT I LIKE
The club is undoubtably high-end, yet approachable and not intimidating.
Pico Sands Hotel rooms are spacious, big enough to hold a rehearsal for a Tinikling dance number.
The amenities are well kept like as if it was only made in the last 12 months.
Pico Restaurant's crispy bacon is worth every low density lipoproteins in each bite.
Free shuttle inside the complex for everyone, wet or dry, literally or figuratively.
The club is actively involved in environmental efforts to save the marine ecology. Kudos!
WHAT CAN BE IMPROVED
The rooms' interior design would be more interesting if they put more touch of personality. Although functional, spacious and surgically clean, I think it was a bit too plain for my liking.
Getting there via Cavitex – Ternate – Nasugbu (approximately 73 kilometers, 1.2 – 2 hours)

1.       From the Mall of Asia Complex, take Coastal Road and go straight to CAVITEX exit

2.       From CAVITEX exit, go straight to Kawit going to Bacao Road and Tejero

3.       Take the road from Petron gas station going to the town of Tanza pass by the town of Naic, until you reach Ternate.

4.       Follow the main road leading to Puerto Azul, and then turn left to access the Kaybiang tunnel.

5.       Enjoy the scenic view of Patungan Cove to your right until you reach the Hamilo Coast main gate.

*** For more information go to Pico Sands Hotel Website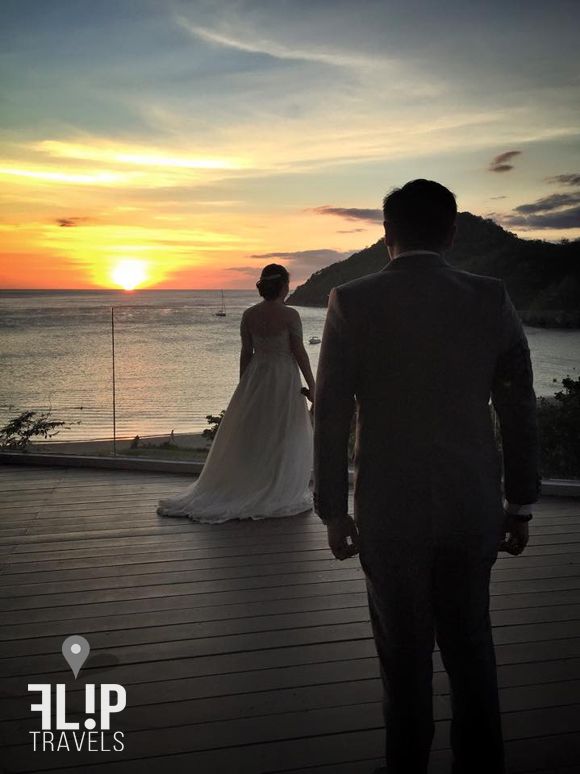 So the wedding happened, sealed by the sun setting in the horizon and witnessed by the orange sparkling sea. It was so difficult not to feel that I was on a vacation, behind all the fanfares and theatrics of the Filipino wedding ceremony, the romantic venue ultimately made everyone want to get married immediately, re-marry once again and for some, be just dreamy and hopeful.
But for me, I was up for a night at the beach drinking my iced cold bottle of beer while holding my dress shoes up my embrace. Hamilo Coast was no less than perfect for my first destination this year, it is a good representation of what Philippines can offer and it is just right outside of Manila.
I kick started my 2015 at home, with my family, where it is closest to my heart.