how i almost got kicked-out of an abbey in salzburg
By Ron Cruz
.
The map and the GPS confirmed that I was at the right location, with my 20kg bags and empty stomach, I couldn't wait to check-in and sit in a restaurant. But my basic cerebral functions were probably still snoozing the alarm.
Yes, I am staying in a church in old Salzburg. Complete with real priests, nuns, open courtyards, raindrops on roses and whiskers on kittens—It was an Austrian cheese-travaganza!
I found myself standing in front of an old baroque church which name is until now I couldn't seem to learn how to pronounce—Dreifaltigkeitskirche. In front of me was a massive wooden door on sweeping façade of the 300 year-old building, there are twin towers, palace-type wings and a dominant dome casting a shadow above me. It was slowly unfolding to be an authentic Julie Andrews moment.
This is what I have been waiting for, I wanted to open the slabs of wooden doors like as if I own the friggin' building. So I took a deep breath and pushed it in full glory.
… It was locked.
.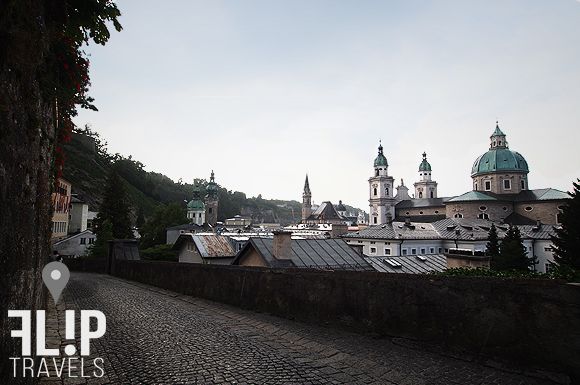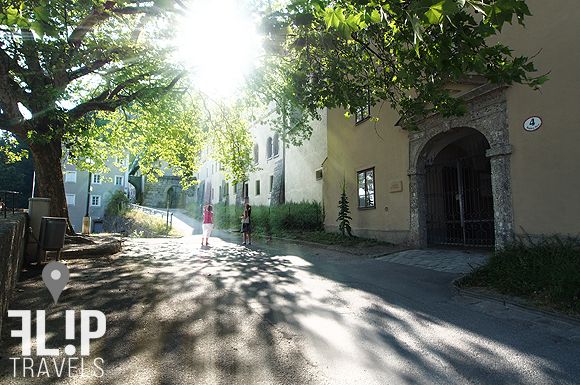 .
I turned around the corner and looked for another entrance… Also locked.
I went around the church, a man was entering a gate but he already closed it even before I was able to say "Guten Morgen!"
Few more meters away a lady on the counter shut the door even before I was able to utter "Screw you grumpy old mutha#@&%+}!"
30 minutes later I was still outside, I went back to the big front door figuring-out how to get past the fortress-like walls. Until I noticed a small box next to the door, an intercon labeled with scary names, so I picked the least lethal-sounding one, Frau Helga. I called-in, "Hello?" a baritone voice of a lady in thick Austrian Salzburger accent answered back "Were you trying to push the door? Pull it my child!"
Oh yeah, I never thought of that.
.
.
It swung open to an inclined cobbled foyer with another gate leading to the courtyard with a statue of Saint Peter on the fountain.
At the exact moment when I touched the wrought iron gate, the church bells above my head rang with notes so closely arranged it sounded like a stringed legato. It gave me chills that crept down my spine. I am so enjoying this!
Just when I thought it couldn't get any better, A middle aged nun walked towards me and offered to help me with my bag. I swear I died right at that moment, it was the old Europe as how I always wanted to experience.
 .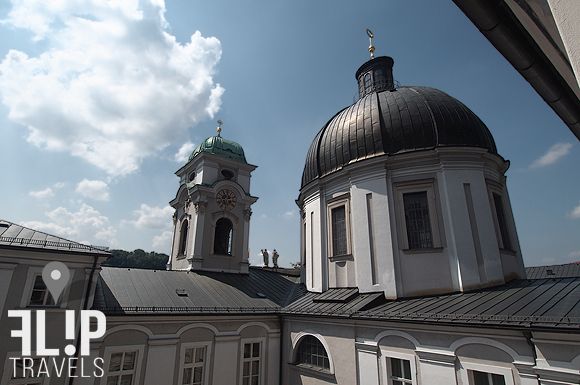 .
The nun was slowly writing my passport details, so slow that I peeked on the form and half-expecting a calligraphic writing on it.  I almost thought she actually have slept on the process.
It was an awkward silence, so silent that I can hear every pen strokes echoing across the antique cold stone walls. So I cleared my throat and asked her a random question.
"Sister, what is the WIFI password?"
She looked at me for a moment and broke into what I call "the reverse HAHAHA" (A sarcastic sounding laughter popularized by the Sesame Street puppet, The Count)
"AH-AH-AH-AH-AH" She abruptly switched to a serious tone "Go to your room, now!"
.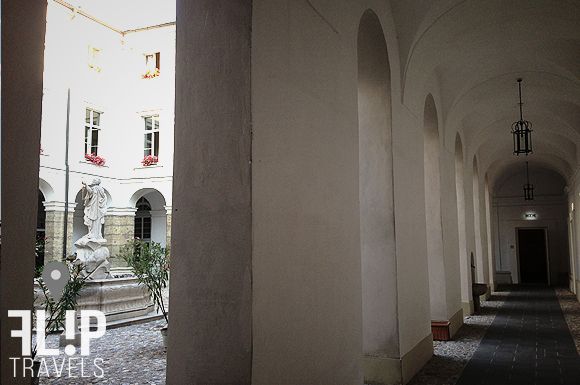 .
I may look cunning, but I have irrational fears of a lot of different things. Like spiders, cockroaches, moths, monkeys, basketball shoes and dark corners. Dark corners are everywhere in the medieval abbeys and renaissance monasteries in Salzburg. And the religious statues like those carved by Bernini are virtually everywhere too.
Imagine walking on a dark hallway, then a large statue of  dying Christ with almost cadaveric realism will popped in your periphery—Yes, it actually made me sprint across the long hall back to my room without looking behind. I was imagining the statue of dying Christ freed Himself from the crucifix and walked to chase me in a severe unearthly gait.
,
 .
On my first night, I forgot to buy a bottle of water and I don't want to pass through the long dark hallway at 11 PM to make it to the wooden door. Nope nope nope NOPE NOPE!
Despite the ever-so-vehement reminder to behave with strict decorum, I went to the cloister in my standard beer shirt and boxers bed-time clothes to drink from Saint Peter's fountain. It was already late, so I thought everyone should be sleeping.
I put my palms together to make a cup and drink from it, I enjoyed it too much that I repeated the refreshing process with an exaggerated audible sound.
<Slurp, slurp, slurp, Ahhhh! Slurp, slurp, slurp, Ahhhh!>
"Excuse me?!"
The voice behind me made me squeaked a bit and almost giving me a mini-heart attack. Two nuns were looking at what I was wearing in utter horror and repulsion. I felt that they were waiting for me to air my appeal and explain to defend myself. So mindlessly and tactlessly, I blurted "Why are you still awake?" (F#@$! Wrong move!).
The next morning, Frau Helga called me in her office. It was like Cainta Catholic School all over again!
. 
Related post :