KL… set… go!
When we arrived teleported from Singapore to KL. We were several hours ahead of schedule. I mean waaaaaay ahead of schedule. We were welcomed with a silent treatment, because it was like 3:30 in the morning. We booked a room at the Equator hostel a week before the trip. It's the same hostel where we stayed exactly 2 years ago. I like its homey ambiance, unassuming aura, clean facilities and friendly hosts. However, when we arrived, it seemed like everyone's in deep slumber, we waited outside the gate for an hour but no one's responding to our distress signal. We can't blame them, they're expecting us to arrive at 6-ish. And we never thought of booking a plan B Hostel.
think-think-think
Monette suggested that  we can stay in the police station until dawn breaks. We both paused for a jiffy–"NOT!"
think-think-think
"can we just go to the nearest Starbucks? oh, everything is still closed"

think-think-think
I walked couple of blocks along Lorong, and EUREKA! Just like a cheesy movie plot, providence played a cameo: the good guy ran-out of bullets in the middle of an action scene in an abandoned warehouse, and then  there's a new gun conveniently sitting prettily right beside him… There's another Hostel that wasn't there a year ago. And so we rudely woke the receptionist, Thana, by furiously knocking on the window (CLICK HERE to read a separate entry about Thana). And so we walked-in and good thing, they got available dorm beds for us.
Classic Inn hostel is a softer version of its contemporaries in the post war row houses cum hostels along Lorong 1/77A. The dorms are clean and comfortable. We took two beds in the mixed dormitory. When Monette opened the sliding door slowly, her eyes quickly adjusted in the dark, then she gasped and closed it instantaneously.
"HOH MY GAWD, RONNIE".
"why? what's wrong?"
"there's a guy in the room!"
"uh, duh! its a mixed dorm!"
"he's sleeping…
"uh, duh…"
"….NAKED!"
"oooh–WHAT?!"
"Happy FI-YES-TA!"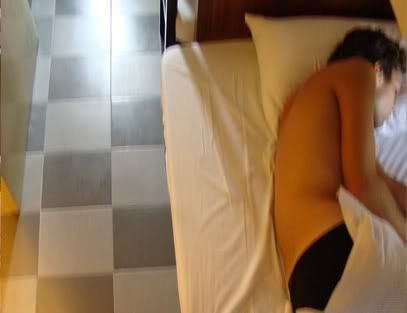 Here's another unsuspecting victim (by the way, he knows that we took his photo)

They got an al fresco porch in front where you can eat breakfast, read papers or randomly talk to other backpackers. They also got a small garden where they hold an acquaintance barbecue parties for the guests. Breakfast is free, they serve roti canai with sambal dip, butter toast, fresh fruit and coffee or tea. we shared the table with a retired couple from London. We talked about travel, work, economy, politics and they taught us pointers about Life… We walked off the breakfast table, and we never saw them again. We never got the chance of asking their names and introduce ours, but we had a very meaningful conversation with them.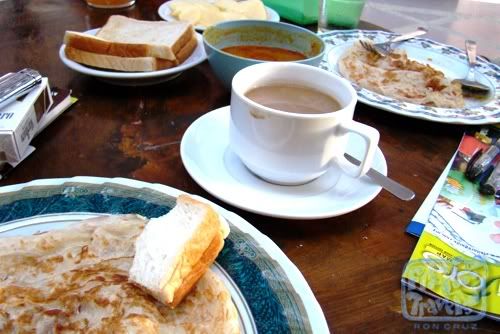 CLASSIC INN
52, Lorong 1/77A, Changkat Thambi Dollah,
Off Jln Pudu 56100, K.L. Wilayah Persekutuan
Dorm MYR30/person
http://www.classicinn.com.my/

EQUATOR HOSTEL
70, Lorong 1/77A, Changkat Thambi Dollah,
Off Jln Pudu 56100, K.L. Wilayah Persekutuan
Dorm MYR25/person
http://www.equatorhostel.com/
Going out of KL via the international airport, it is not as convenient like in Manila. It is outside of the city, one hour and a half  travel by bus (Like manila to Clark). We didn't expect this. Our flight to Siem Reap is at 7 AM and we have to be in the airport at least two hours before the scheduled flight, but buses will not operate until 5 AM. Cabs are ridiculously expensive. It may range from MYR100 -MYR200 while buses are only MYR9. But now you can take the newly opened KLIA EKSPRES. I haven' tried it but it will be a shorter trip and will cost around MYR35 (one way).
Click here to KLIA EKSPRES website
So we decided to catch the last trip to the airport and stay there overnight. With only 1 hour before the last bus, we still managed to go to the mall in front of our hostel to eat a good nasi lemak, because we're unsure of the food in the airport, then we took off and run for dear life. We're like contestants of amazing race, running with our huge bags, catching our breath, squeezing ourselves in the LRT cabins. Some drama because I lost my train pass. But we were able to get there in time.
We reached the airport at around 9:30 PM. then we started thinking of ways how to kill our time and how to try finding a comfortable corner to sleep… for it's going to be a long 10 hours of waiting.
TIP: Air Asia is the most affordable airline of choice to Siem Reap. But unlike Cebu Pacific that has free baggage allowance of 15 kg, you have to pay something around MYR15, so make sure you reserve few extra Ringgits in you pocket.