surviving caramoan (episode 1)
Make me moan, Caramoan…
~Santi Obcena
Fresh from the trip to Ilo-Ilo a week before, Ron and I decided to bring Jeff to Caramoan Islands. Together with Santi, we huddled at terminal 3 an hour before departure. As always, Ron had to be late… We had to do unbelievable stunts to keep the counters open till Ron arrived. And he did, in the nick of time…
After a short plane ride to Naga Airport, we hit the road and immediately looked for a place to eat.
Kinunot, stewed shark and stingray meat.
Pinangat, taro leaves with shrimps
The ever so famous Spicy Bicol Express
And because we did not want to see CWC because we felt it was a bastion of capitalism, we decided to check-in somewhere in the city and look for a gay bar for our two guest travelers instead. Unfortunately, the trike driver thought he knew one but when we got to the spot, it was all green. The place really looked like a rice field for me… We ended up in Naga City Deck where majority of the nice bars are and spent our time drinking alcohol and nursing broken hearts. I unfortunately had to call it a night after a few bottles because I came from shift, while the rest of mankind went to Biggs and had milkshakes and eye candies.
We woke up at 3am, got to the terminal at 4am, and labored 2 hours of shuttle drive to the port of Sabang. We got there at 6am, in time for the departure of the 1st boat. And we didn't exactly pranced around to hop on it. We had to be carried by porters because of high tide. After getting as comfortable as we could, we slept off another 2 hours before we got to Caramoan Port. We spent another 20-30 minutes getting to our resort in La Playa Camp and Picnic Grounds.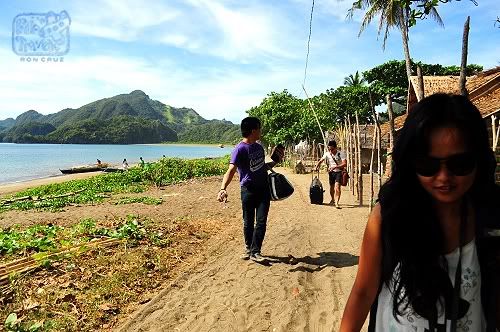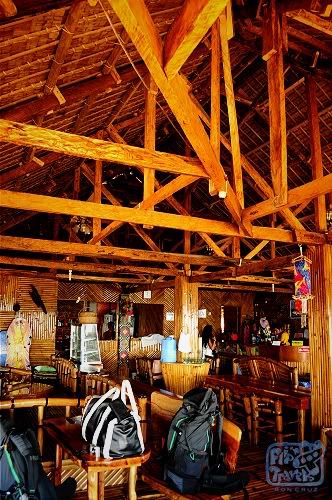 Flip Pockets: Paid 150php for the shuttle ride from Naga City to Sabang Port. The boat ride was at 120php. We contracted a trike driver for 200-300php from town proper to the resort per way. T he cottage we rented was for 1500php a night and the resort arranged our island hopping tour (1500php – 2500php) and the meals (300php – 500php) for us.
As always, we did not waste any time. We had a quick lunch, changed to 'rampa' clothes, and hopped on the boat to round the nearby islands on the right side of the resort.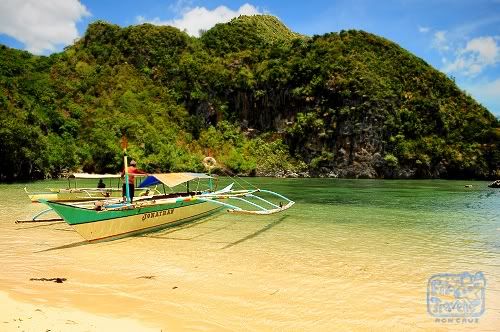 Now, what made me gape my mouth was not Sadako… It was disbelief. See, I know those magnificent island formations can be seen here in the Philippines. I know I'll see them when I go to Palawan. I was not prepared for this sight when I went to Caramoan. I guess that is why to us, this is one of the most beautiful beaches (and perhaps places in the Philippines) we have ever been. You'll never see Caramoan coming…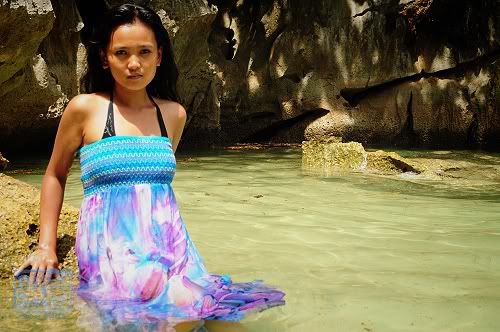 Too bad we weren't able to visit the 'Survivor' islands. The Reality show's franchise from countries such as Israel, France, Bulgaria, and Serbia already filmed here and Survivor USA is said to follow on 2012 (Survivor Sweden was filming during our visit). Because of this, a huge steady influx of foreign travelers is making Caramoan islands one of the best new tourist destinations of the Philippines.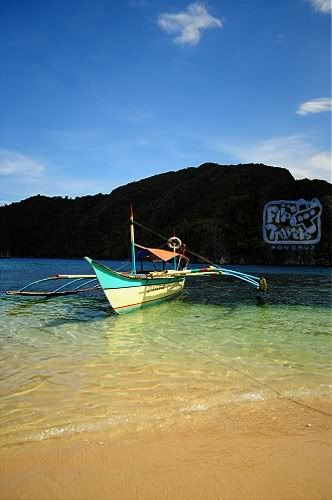 Oh, and before I totally stray off of my stream of conciousness and sound like a Philippine advertising ad…
Voila!
Pretty kick-ass huh?
This article is part of the first ever Pinoy Travel Bloggers' BLOG CARNIVAL. Estan Cabigas of Langyaw.com hosts the first blog carnival with participants posting their "Best destination that they've gone to in the Philippines."