surviving caramoan (episode 2)
To give you an idea on how Caramoan appeals to the international market, watch this primer of Survivor Serbia in 2009.
We spent the first day hopping from one island to another, jumping shots after shots, it was a vacation like no other. That's because this time around we were with two of the most fabulous guest travelers and good friends of ours. Jeff is a fashion b*tch and blogger from Vancouver Canada and Santi is a fashion designer and runner-up of Project Runway Philippines season 2–(READ: BAKLA).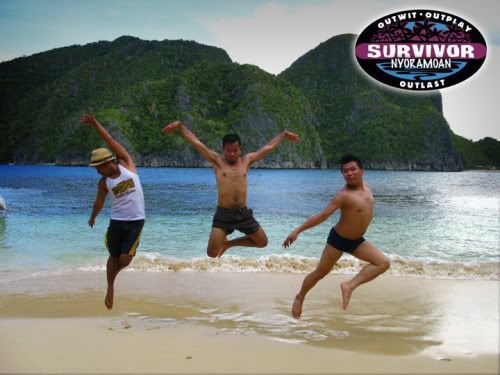 The first day was overwhelming, we were like kids inside a chocolate factory–HYSTERICAL  beyond fabulousness! Our only rest was on the boat when we were moving to another island. Ending? We were all knocked-off on our first night in La Playa.
The following day was another feat, we decided to explore the other group of islands further out. It was supposedly an hour away from our beach but it became two. In the middle of our journey, the pump boat motor simply gave up. It wasn't a comforting thought that we are at the edge of the Pacific ocean, few miles away from the deepest sea bed in the world–the Philippine Trench.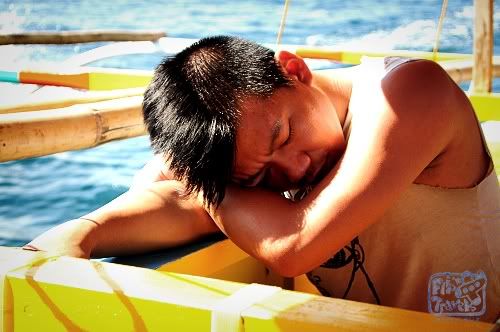 We didn't notice the misadventure, I mean who would? If you have the live entertainment on board and non-stop trash talking to keep the spirit up… But just like the boat, us too ran our of battery, the hot temperature, the swaying boat riding the waves and occasional splashes of salt sea water slowly dragged us to almost lethargic state of consciousness. But before we got comatosed, the motor miraculously went up to life.
But what jolted us is not the revival of the motor boat, but the defibrillating view of the place that welcomed us.
Right at the middle of the deep water, a submerged sand plateau perfectly formed to have a place with knee deep water. We uncontrollably jumped off the boat and me being from Sampaloc Manila felt so close to home as it's very reminiscent of Espana Avenue after 10 minutes of rain. Only difference is it's unbelievably crystal clear and there were fishes swimming.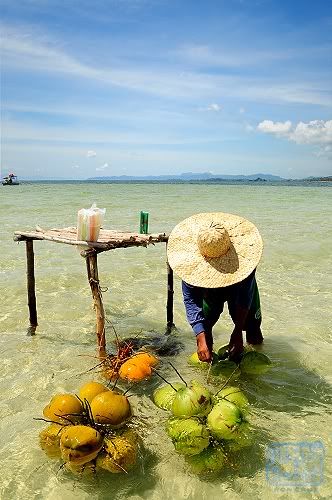 With our packed lunch, locals selling fresh coconut, our own bamboo gazebo… It couldn't get any better. Until Santi started praying for some hot half naked local fishermen. EPIC FAIL!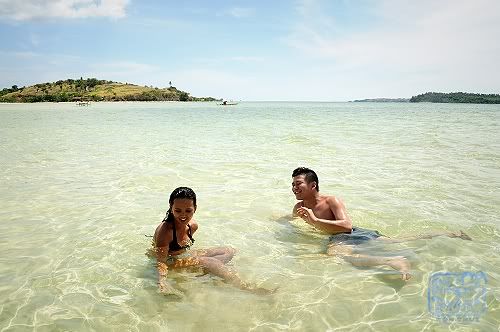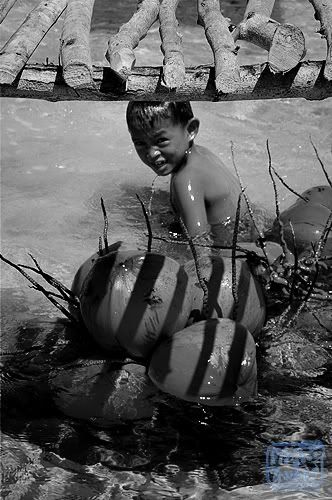 We hopped to other islands, each one got their own character as if they are all from different parts of the country. She cruised, he pranced, I climbed, he played Brook Shields and we lost track of time. But who cares, right?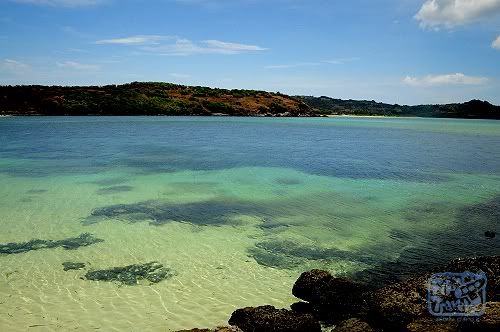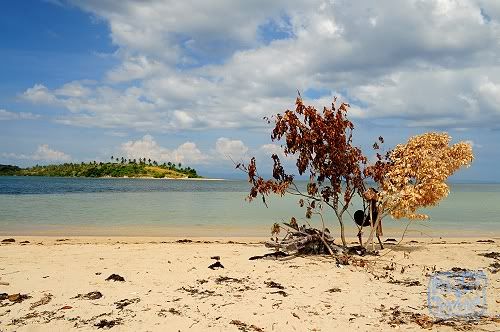 For our last night in Caramoan, we originally planned to do some river cruising to see the legendary thousand fireflies. But we were there on the wrong time of the year, apparently the fireflies only come out during rainy seasons. So we just thought of going to the town center to look for some souvenir survivor shirts and (ahem!) fridge (gulp) magnets instead.
Caramoan is a small and sleepy provincial town. Isolated from the urban Camarines Sur, power interruption is not unusual. Which came out to be a spectacular highlight for tourist. The millions of stars in the sky seemed to make-up for the absence of fireflies. The four of us ordered bottles of ice cold beer, lit a candle and with four different perspective, we talked about outwitting work, outplaying love and outlasting life.
It was a long journey back home, it was so hard to bid farewell to Caramoan and accept the fact that this ends our summer 2010.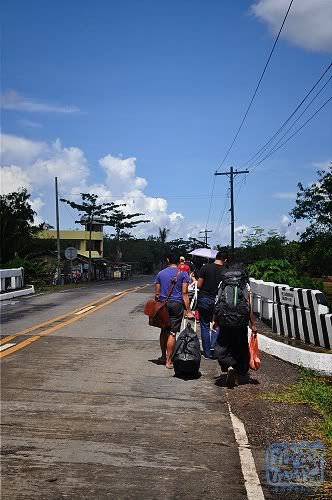 … but even before we reach home, the ghost of misadventure gave us one more blow, the tire of our van to Naga mysteriosuly exploded and flew a rice paddy away.  Monette and I couldn't help but smile quietly. Because it's a sign that the adventures and misadventures of Flip'n Travels, shall continue…