the chicken rice group of islands (a scarborough shoal bedtime story)
The Scarborough hullabaloo is getting thicker, juicier and cheesier than ever. It started with just another machismo stunt China had launched towards world domination, and now we are getting a bigger picture of the possible regional cold war when speculations spilled out that there is a huge possibility of harnessing natural resources under the disputed amoeba-looking sandbar that could propel Philippines to go neck-to-neck with top players in the middle east.
I was looking at the map of now Philippine West Sea and one territory popped in the image, right on top is a dangling island of the Hainan province.
Now to give you a back story, here's the tag of war in a nutshell:

In the year when Ashton Kutcher was born (1978), during a conflict between China and Vietnam for sovereignty over the Paracel Islands (Xisha Islands) the talks about China claiming the group of islands started to spark a fire over a long ignored region. According to China, in the year when Demi Moore was born (1279) astronomer Guo Shoujing was sent to an island, under the Yuan dynasty, as part of an empire-wide survey called "Measurement of the Four Seas" and he landed in the Hainan island called Nanhai, which they claim to be the Scarborough Shoal.

But then a different story of Scarborough Shoal begins to form in the Philippines. One of the earliest and most accurate Philippine maps, titled Carta Hydrografica de las Islas Filipinas published in 1734, depicts the now-disputed area as part of Zambales in the Philippines. Made by Spanish Jesuit priest Pedro Murillo Velarde, the map names the shoal Bajo de Masinloc.

Recently, in the year I was born (1990-ahem), a historian called Zeng Zhaoxuan nullified China's claim and argued instead that the historic Nanhai measuring point was actually located in Central Vietnam.
Despite the brewing feud among China and the rest of South East Asia, there is an undeniable dead ringer that still envelope us together. One of our oldest and boldest bourgeois that stood the test of time is the innate love of one dish, the Spam of South East Asia the Chicken Rice.
Known in Vietnam as Com Ga Hai Nam, Indonesians simply call it Hainam, the Thai people coined Khao Man Kai, The Muslim-Malays got their spicier halal version, the Nasi Ayam and Singapore even made it their national dish. Oh, and the Laotians just decided to pour water on it and made the soup version. (Cough-douche-cough!)
Last year, I took a bus to Malacca to attend an international event hosted by 1asiafoodguide.com. So we spent the whole weekend binging on Malacca's fusion cuisine and street favorites. But the highlight of the trip was when we got the chance to make chicken rice from the ethnic group who pioneered the modern favorite, the ladies of the Melaka Hainan Association.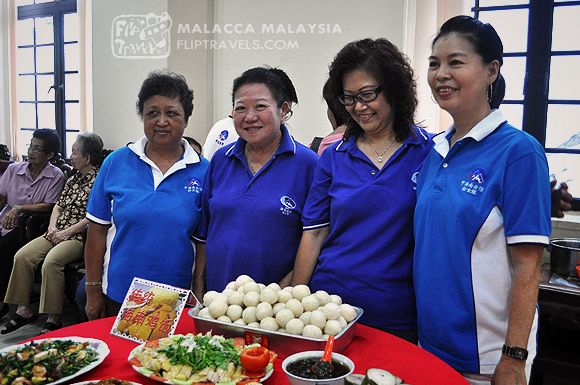 Their version of the dish got a bit of a novelty in it–The chicken stock (oil) drenched rice is served in balls. One auntie told me that the reason why they serve it as such roots back to their ancestors who decided to leave the Hainan province to work as port merchants in the peninsula. They find it more convenient to cook it early in the morning and bring the rice to work, sometimes kept in a box and sometimes wrapped in leaves. Now tell me, who got the balls?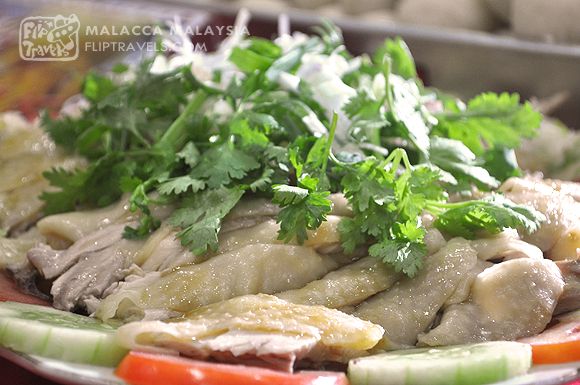 The chicken part tastes like the usual Chicken Rice from Maxwell Hawker Center in Singapore, though I must commend the generous amount of Coriander they dumped on it. But I must say, these rice balls could possibly be on my top three.
I am not sure if these ladies cook this for commercial selling but you can try your luck when you visit Malacca, they are located along Jonker Street. They also cook traditional Hainan dishes that are screaming identical twins of our Pinoy version.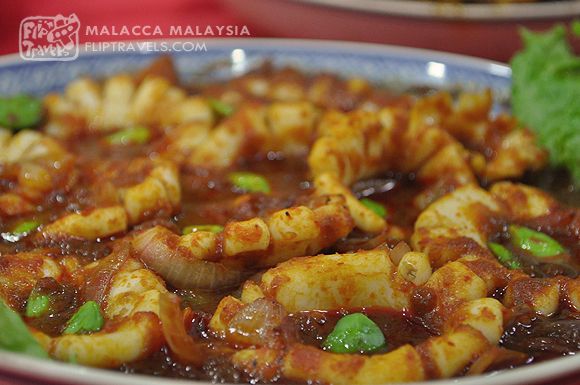 Sotong sembal belacan sauce is like our gambas
Yi bua is like a hybrid of sapin-sapin and buchi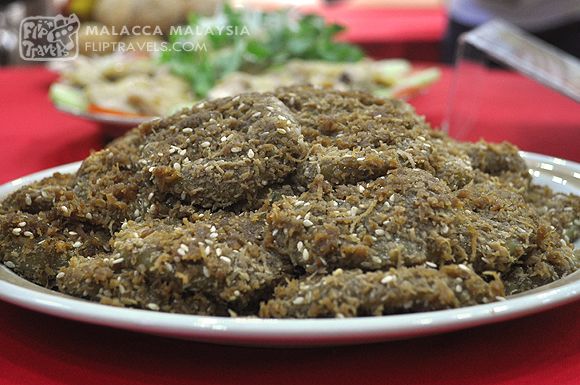 Bua ta art is glutinous rice flour, coconut shreds and sesame seeds… go figure! 
Who ate my rice ball masterpiece? Nah, he is just the Melacca's chief minister Datu Mohd Ali Rustam, no big deal *phfsh!
Everywhere you go around South East Asia there will always be a version of Chicken rice, usually with a local twist and pizzazz. If there is a common denominator between the countries trying to snatch Scarborough Shoal, this would be it: The Chicken Rice, the simplest and yet the most delicious contribution of our region to the world's hypertension and hyperlipidemia.
Now you may wonder how come Philippines does not have a chicken rice version, well here's what I have found out. The steamed, roasted or fried chicken and rice played a major part of the colonial Philippines' tables. One arguable historical evidence is  from the letter of Marcelo H. del Pilar to his wife Marciana during his stay in Spain in 1890:
"It is Christmas and I can imagine the happiness over there… Last night, Rizal and other expatriates had Noche Buena here and the table we used to eat our food from was our left palm while we used our right palm to put food to our mouth. We had rice, chicken, lechon with a sauce which was parang salsa rian [like the sauce there] because the cook was Filipino…" 
Filipinos love the local flavors, it must really be a Pinoy favorite if ilustrado expats were cooking it for Christmas eve feast, a Tinola and Adobo could be a giveaway, but rice and chicken? There must be is a page of history here that was ripped  somewhere when Americanization and Burger domination took place.
Filipinos original recipe of Chicken Rice may be lost in history. Could it be possible that it has evolved to its alter-ego the arroz caldo and lugaw? with all its ingredients intact (Rice, chicken, fish sauce, ginger and green) it should not be discounted. Nevertheless, there is one thing we can be sure about: That the Filipinos affinity to Chicken and rice continued, thanks to its reincarnation in a form of a gay bee in orange tux.
I have a hunch that these Scarborough hoohah will go on for quite a while, I hope we will not lose the threads that connect us together and settle the matter in a rightful manner like one big cultural family.