what shwedagon taught me
By Ron Cruz
 .
Towards the end of each trip, the last few hours are always the fastest, whirling like blurred movie scenes flashing like strobes causing a silent seizure, an alternating circuit of vague emotions. Like a toddler's tantrum that only riddance can soothe.
On that last day in Myanmar, we gave the city one last glance that she deserve. No plan, no mission, no bullshit.
So, I just decided to fly by the seat of my pants.
 .
Towering and outshining anything in the city, Yangon's Shwedagon can easily be a grand symbol of opulence, a bastion of faith, a pride of a civilization. Like a golden mammoth hat, a colossal blazing icon, a perfect vantage point for an arsenal in case of zombie apocalypse.
But how come I never heard of this temple before?
 .
In our attempt to look like locals, we slipped in our Longyis and glided surreptitiously to the entrance gallery of a structure I did not even bothered researching. It was like a bad case of lame espionage.
I took some photos, sat on a shade, took some more photos and repeated that cycle for 2 hours.
Sitting right in front of the Shwedagon is both humbling and empowering. With its shimmering coat of pure gold it will either take you aback or let you contradictingly embrace his sublime undertone.
.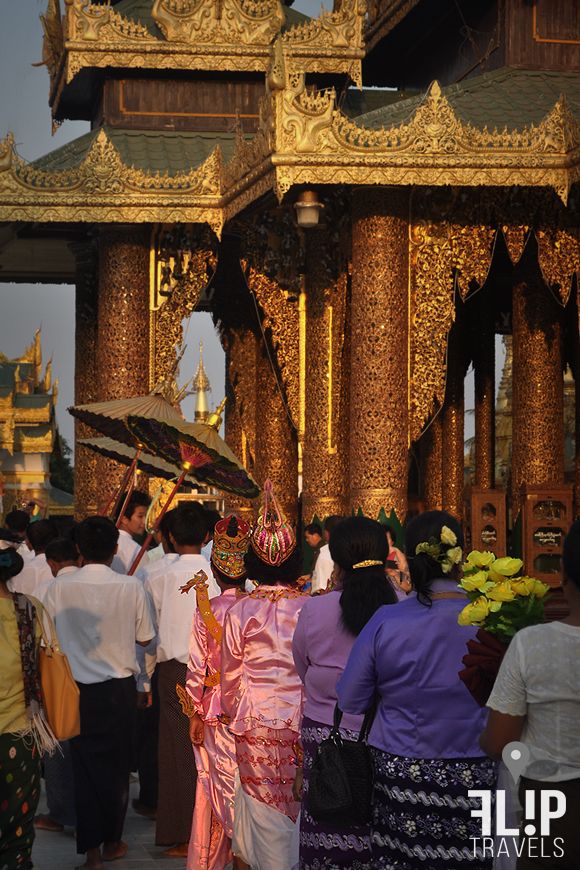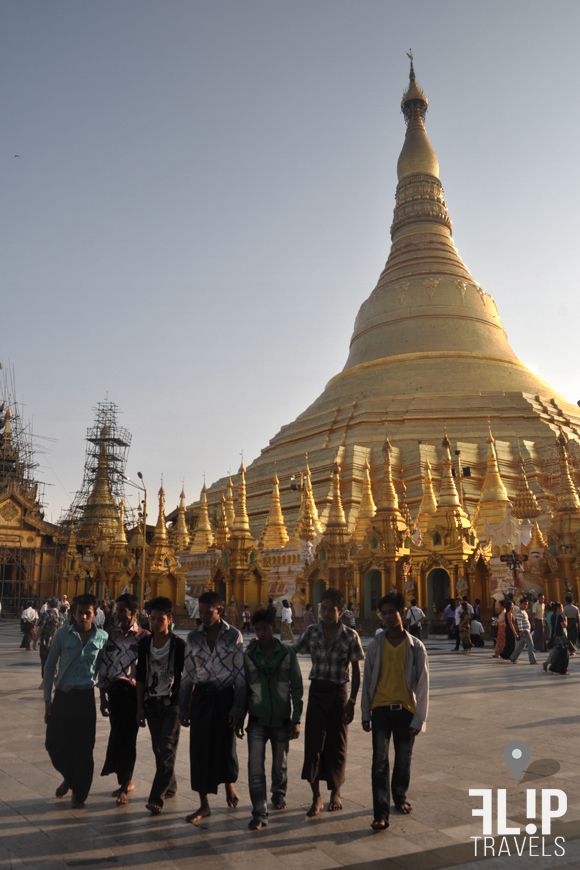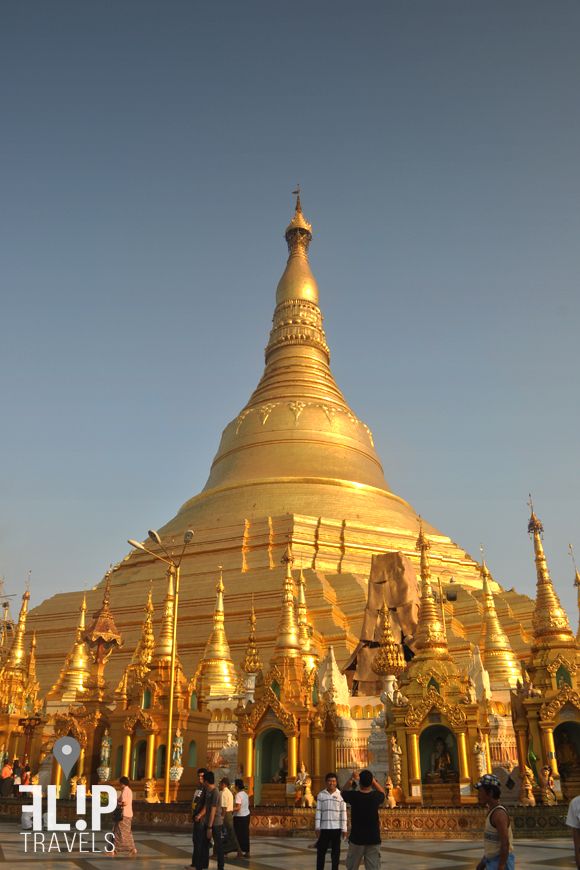 .
So what am I doing in a place of worship, where I totally understand nothing? While the rest of the faithful meditate to an almost trans-like state of prayer, I the intruder on the the other hand, was in a tantric bunny hop as the polished marble floor burns every square centimeters of skin that comes into contact with that hundred square meter teflon pan.
I honestly thought I was being punished for being such an unworthy visitor, and I will grease up and fry in my own boiling lard like a bacon strip for breakfast.
.
Until I realised that I bought a book about Myanmar, so I flipped to the pages about Shwedagon and that was when I learned its history.
.
We all know the Eiffel tower's back story, the Christ the Redeemer's fame and the fake claim of the Great wall's visibility from outer space. But we do not know anything about this underrated structure:
That it holds the

 relics of the past four Buddhas (The staff of Kakusandha, the water filter of Konagamana, a piece of the robe of Kassapa and 8 hairs of Gautama);

That The umbrella on top has 2,317 rubies and 5,448 diamonds, the biggest of which weighs 76 carats;
And that this place is apparently older than Jesus Christ by 5 centuries, for Buddha's sake!
I stopped there, closed the book, looked up to the towering pagoda and just flew by the seat of my pants.
.
.
——————————————————————————————————————–
I challenge you to ask the person next to you now and ask if they know the story of Shwedagon Pagoda. I bet they will scratch their butt, look straight back to his smartphone and wouldn't give a baloney.
——————————————————————————————————————–
. 
In this age of envy and competition, everything is about what's biggest, who's the best, the top lists, things that media dictates on what or what not should matter.
It is becoming a norm, a sad culture of irreverent bragging about the gadgets that we have, the things we can do, the number of places we can visit like as if there's a fucking contest or race for the biggest superstar on Facebook.
 .
See, despite its grandiosity that can rival the palaces of France and make Jacqueline Kennedy Onassis look so ghetto, Shwedagon is devoid of publicity—because it is not asking for it. This temple is standing on Singuttara hill to harbour faith and serve as refuge, not to draw awe, exude fame nor beg for amusement.
Shwedagon is teaching us about humility, that travel is not a competition, life is not a race, and self-promotion or drive to popularity is nothing but egocentrism masquerading under the velvety cloak of righteousness and shallow cause.
It taught me that there are unspoken words, untold stories, un-posted travel images that are meant to remain kept in the privacy of our memories, and it would not matter less.
.
The remaining hours of our stay in Yangon brought me to an enlightening realisation.
I surrendered, stared blank, thought of nothing, hoped for the best and for the first time I genuinely decided to fly by the seat of my pants.
 .